The online dating industry, which started as a mail-order bride industry, has always been geared towards the wants and needs of men.
However, since online dating has exploded in the past two years, with scores of new online dating sites and apps appearing online, there are also many sites catering for other demographics. 
Therefore, it's worth it to take a look at what's available and what will be the best options for men who are interested in online dating today. 
Not only are there great online dating options for men but also options that cater for different preferences when it comes to relationship type, the type of woman you may be interested in, and where in the world you'd like to meet women. 
How do we select and compare dating apps for guys?
When looking for the top dating apps for men, there are several key factors that I look for and assess. 
These factors directly influence the security, quality of customer support, and overall quality of the dating site. 
First, I look at whether the app or site is secure, whether members undergo a verification process, and if there is any suspicious bot-like activity on the site. Often when you're new to an online dating site, you notice a flood of messages entering your inbox. 
This is an example of bot-like activity. We don't want you to sign up on an online dating site filled with fake profiles — what's the point?
Another important component that's always worth looking at is whether there is reliable customer service. Some online dating sites claim to have 24/7 customer support, but when you click on the live chat icon, it takes you to an online Whatsapp page or email form. 
A quality online dating site will provide good customer support because that should be part of what you're paying for when you decide to sign up. 
Now that online dating sites have diversified in terms of mission and goal, it's also crucial to look at what the main goal of the online dating site is in order to establish whether men who have certain preferences will benefit from the site. 
Usually, a quality online dating site's structure and services are built on the foundation of its goal; for example, an online dating site that features women from many parts of the world will most likely offer translation services. 
Finally, a crucial component is pricing. Some online dating sites offer a subscriber service while other online dating apps want customers to purchase credits. Credit-based dating sites can be very expensive as the members usually have to pay for everything they do on the site in terms of communication. 
However, there are some credit-based online dating sites out there that can be recommended. Other sites that offer subscription services are also closely inspected to ensure the fees are fair and members get what they pay for. 
That being said, there are some solid options out there for men, and here are some of the ones I'd recommend if you want to have a quality online dating experience.
The TOP 5 Dating Apps for Men
The top 5 dating apps for men consist of dating sites that offer different types of dating services in order to suit all preferences. So, all you need to do is pick one! 
BeHappy2Day hosts an environment for a diverse group of individuals who are all looking for love. You can use the site online or you can download the app to meet women looking for love from all around the world, especially Slavic women (Dating Eastern European (Slavic) Women: The Complete Guide).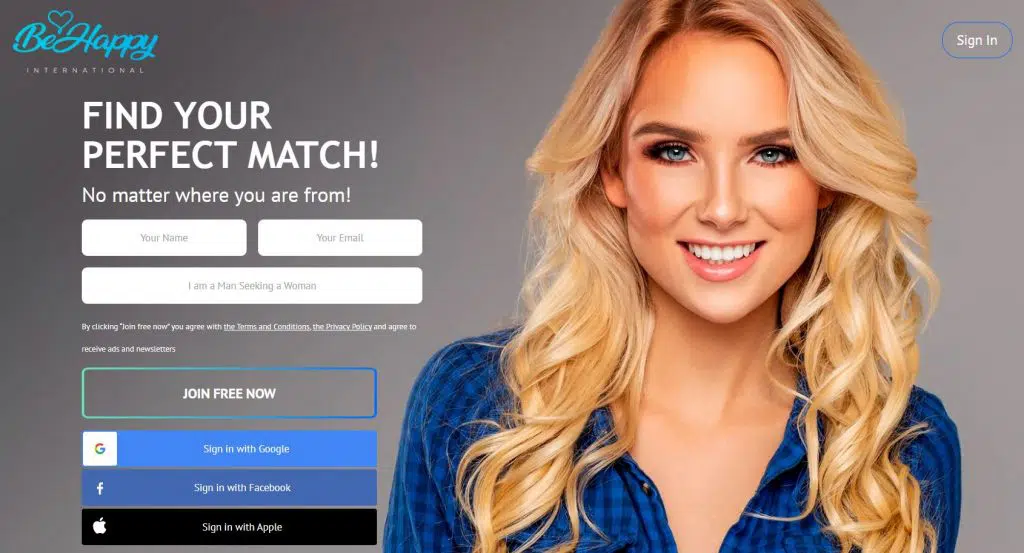 If you can identify with these statements, then BeHappy2Day is for you:
There are several things you can do for free on BeHappy2Day, and there are also options that you need to purchase credits for. Here is a breakdown of what is free and what will require money:
These options require credits: 
Here are some examples of how much credits you would need to communicate:
You can purchase from 20 to 1000 credits, and the more you purchase in one go, the cheaper it will work out per credit. 20 Credits will cost you 2.96 USD, while 1,000 Credits are 379.00 USD.
If you're looking for a Slavic beauty that is just as serious about meeting their true love as you are, then this is the site for you. 
This site is a bit more casual and versatile for those who are looking for more casual relationships or even just hookups (read our review: AdultFriendFinder Review: Is AdultFriendFinder legit?). Adultfriendfinder is a discreet option that caters to many preferences. Additionally, it is one of the largest online adult casual dating platforms in the world. 
To find out if AdultFriendFinder is for you, ask yourself the following questions:
If the answer is yes, then you have found your site!
If you want to join, you'll be glad to know that registration and creating a profile are free. Apart from that, the site offers a paid membership that gives you access to other perks. 
AdultFriendFinder is also known for providing top-notch customer support, and whatever you're looking for, you'll find it among the humongous pool of responsive members. 
For a more casual experience that's still intense and offers fantastic variety, go for adultfriendfinder. 
eHarmony is another great option if you're looking for a serious relationship, whether it's in your country or on the other side of the world (read our review: eharmony Review: Is eharmony.com a good dating site?). EHarmony offers a state-of-the-art matchmaker system, which is used to match you up with the best potential partners. 
Why is eHarmony a great option?
When it comes to membership, you can choose between the Light, Plus, or Extra options (eHarmony Cost: Pricing Options in 2023). The light option is for six months, and costs 395.40 USD. The Plus option is for a year, and you'll be paying 550.80 USD. You can also opt for the Extra option, which gives you full membership for 24 months for 861.60 USD.
Most of what you'll be doing and benefitting from when joining eHarmony is included in the paid options, but you don't have to worry as you'll definitely get value for your money. 
Are you looking for love without borders? If so, you should consider InternationalCupid with its massive membership base stretching across the US, Eastern Europe and Russia, Asia, Africa, and Latin America.  
InternationalCupid gives an exotic flavor to online dating, and is ideal for singles who are looking for serious relationships as well as people who are looking to date singles from other nationalities.
Although you can sign up and create a profile for free, you'll not be able to communicate with other members for free. However, InternationalCupid is a great option due to its attentive customer care and supporting up to 32 languages.
If you're looking for love on another continent and you're possibly interested in an interracial relationship, then this is your go-to. 
ChristianFilipina is the ideal online dating site for Christian singles looking for like-minded Filipina women or women from other parts of Asia. 
To find out if ChristianFilipina is for you, consider the following questions:
If the answer is yes, then this is the site for you!
ChristianFilipina allows you to sign up and browse for free, but in order to connect with like-minded Christian women, you need to become a member.
This is a quality online dating site that brings beautiful Christian women from across Asia together for you to meet, befriend, and possibly more. 
Helpful Tips & Hacks for Men To Dating Apps
So, what do you do once you've decided which online dating site or app is for you? Here are some pro tips for making it work from the start:
This is, admittedly, a broad statement, so let's break it down. First, be yourself and show your best side without showing off. Then, don't focus on your weaknesses too much although mentioning them will not count against you as long as you have a positive attitude. 
There is nothing wrong with your natural looks as long as you make sure to take a good quality photo. Try to use natural light, and be creative by taking a picture with a background that hints at what you like to do. For example, if you like hiking, then a great picture will be you doing just that
The hardest part is finding the perfect online dating site, and now that you've done that, you can relax and enjoy meeting like-minded women.
Wanna find out how to meet an amazing foreign woman and have experience in International dating, but you have no idea how to start it. Keep calm, we are right here to help! ☝️ Ask Krystyna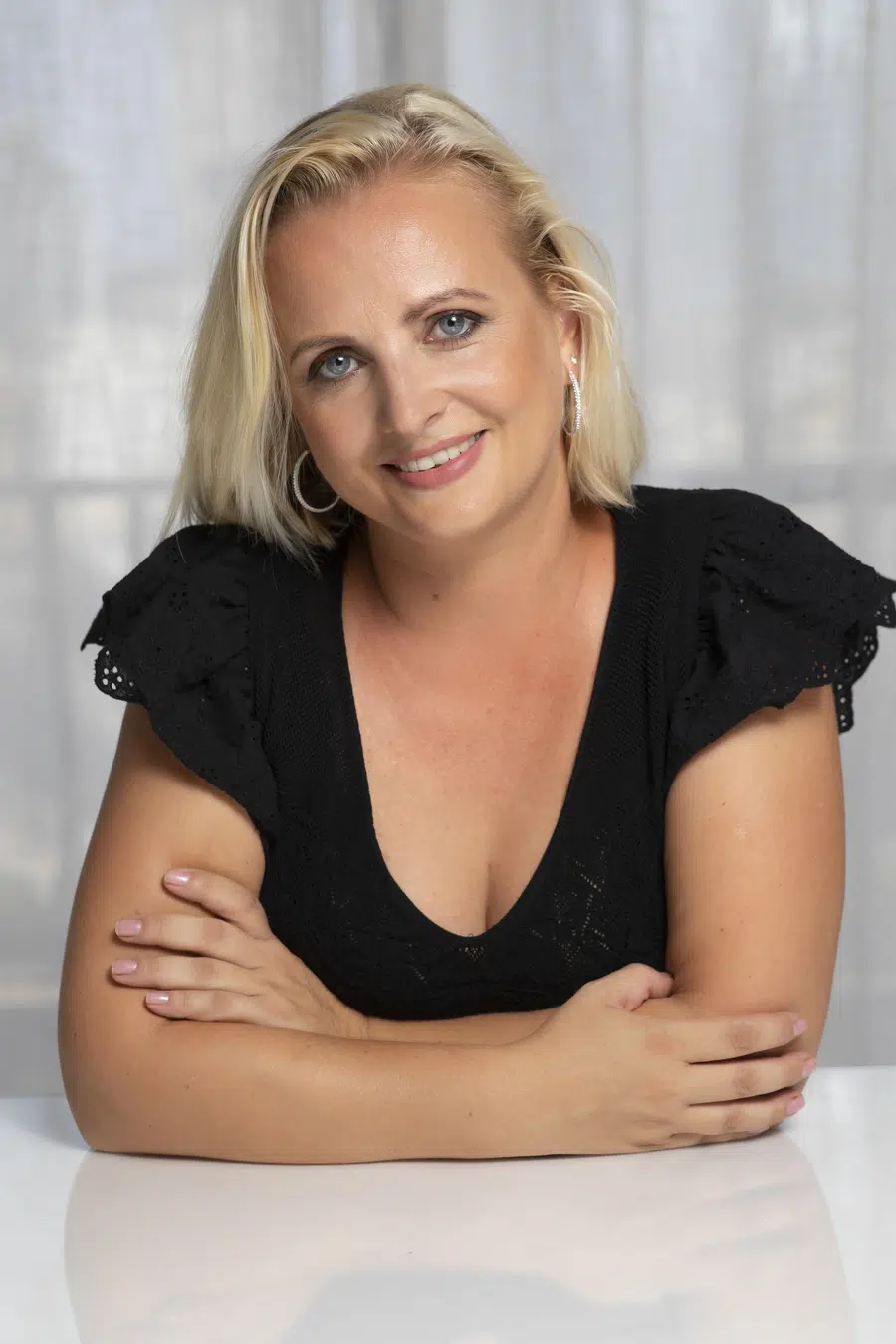 Krystyna is a blogger, coach and iDate speaker. She has been working in online romance and International dating industry since 2012 and is passionate about identifying the romance scam and giving dating tips and hacks. Join Krystyna for the dating service reviews and for finding ways to succeed with dating.
Krystyna focuses on International dating, which involves teaching men communication skills in a cross-cultural environment. She has been featured in many major publications including
DatingAdvice
,
Space Coast Daily
&
SWAGGER Magazine
.
Looking for more information? Feel free to get in touch to ask your questions or give feedback (see here:
Contact Krystyna
).