The advent of technology has made finding a soulmate and long-term or short-term partner a lot easier. Dating sites like BeHappy2Day.com are among popular International online dating sites. The site features thousands of registered members from different countries.
This makes it easy for you to find a soulmate. The platform connects you to thousands of females from different parts of the world that you can interact with via its numerous communication features and forge meaningful relationships.
This review provides you with all the essential details you need to know about BeHappy2Day.com, like its services, history, signup, and costs.
What is BeHappy2Day.com, and which company operates the site?
BeHappy2Day.com is a Russian and American dating and marriage agency. The company has been in business since 2002. Be Happy International operates the online dating platform. It is also its founding company.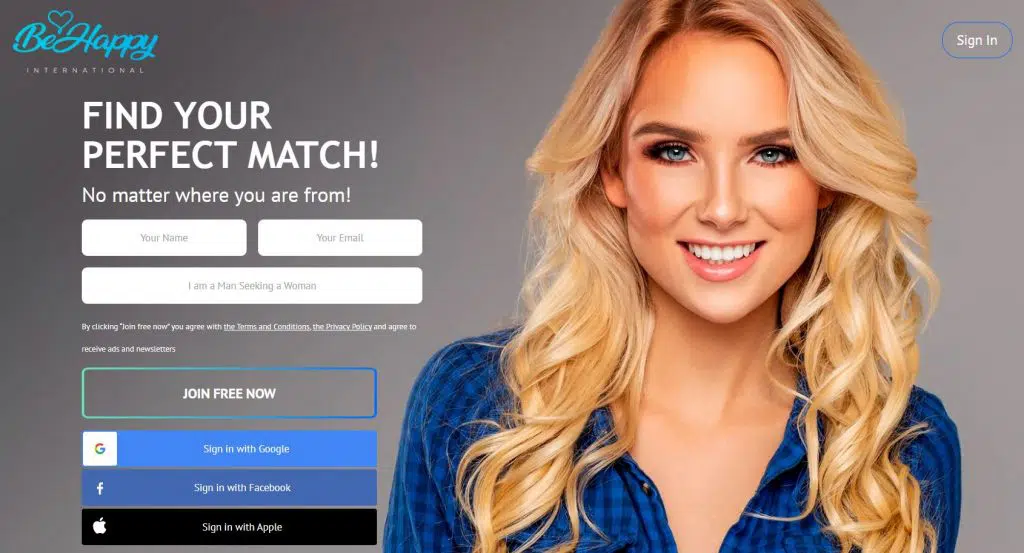 Its primary goal is to connect single and relationship-minded men from Western countries with family-oriented single women in different parts of the world. Most of the women on the platform are from Russia, Ukraine, Asia, Moldova, and Latin American nations.
BeHappy2Day.com started as a small local mail-order agency with headquarters in Tver, Russia, offering tour and coaching packages.
However, the company has grown into a large and successful international dating and marriage network over the years.
How can I sign up at BeHappy2Day? The process explained
The signup process at BeHappy2Day.com is as simple as the following steps;
You can make the signup process easier by choosing the log-in with Facebook option. If you choose this option, BeHappy2Day.com will use your Facebook profile information to create your account. It is worth mentioning that signing up for BeHappy2Day.com is entirely free.
However, you cannot create an account or sign up in countries where it is prohibited.
Additionally, you must be at least 18 years old to join BeHappy2Day.com. Signing up to the platform and viewing the female profiles is free.
What services are offered at BeHappy2Day.com?
Some of the top services offered at BeHappy2Day.com include:
BeHappy2Day.com Costs: Pricing & credits overview
BeHappy2Day.com uses the credit system. This means that you cannot pay a monthly or annual subscription fee to access all premium services. Instead, you must acquire credits that will be deducted every time you use a premium service.
In simpler terms, the credits are a unit of payment for the services on the platform. For instance, sending a letter will cost you ten credits, attaching a photo to the latter costs an additional ten credits, and live chatting costs one credit per minute.
BeHappy2Day.com charges 15 USD to purchase 20 credits. Note that the minimum amount of credits you can purchase is 20. For 1000 credits, the platform charges 379 USD or .75 cents per credit.
Below is a list of the service costs on BeHappy2Day.com
Note that the more credits you acquire, the less money you spend. Therefore, most users prefer getting a lump sum at a go. The company does not charge your credit card directly. Instead, it uses a third-party credit processor called Verotel.
Verotel is a Netherlands-based company that partners with BeHappy2Day.com to make your payments and credit card information safe and secure. You can also make payments on the platform using PayPal.
BeHappy2Day member structure and profile quality
BeHappy2Day.com records over 60000 monthly visitors from all over the world. Most visitors are from the US, Germany, and the UK. The gender proportions on the platform are 40%-60% (males outnumber females). The platform also features 5000 active users weekly.
The platform features more than 5400 female profiles. The profiles are highly detailed. They contain information like physical features, likes, hobbies, career, education, and qualities of the ladies. The detailed profiles allow you to connect with people who share your interests and meet your preferences.
The profiles also have large, bright, and professionally shot photos of the ladies. Some profiles also have additional interviews of ladies for more information, and anyone can view two pictures in the profiles at no cost.
Many ladies on the platform also have video introductions of themselves. These videos help give you the first impression and glimpse of the woman and her personality before interaction.
All the ladies' profiles are labeled "confirmed." This means that the company has checked the lady's personal information and identification before publishing her profile. This is done to ensure that scammers do not get on the platform.
Design and usability - is it easy to use the site on mobile and desktop?
BeHappy2Day.com features a user-friendly and intuitive interface. It is easy to use on mobile and desktop. It is easy to navigate and allows you to find what you need effortlessly. The company also offers a free-to-download mobile app.
The app allows you to access things on your phone and use the site from anywhere and at any time. The app also allows you to stay connected with your love interest.
However, iPhone users have no interface, so they have to use the browser site. Note that most BeHappy2Day.com users access the platform via its downloadable app.
How do I contact BeHappy2Day.com customer service?
BeHappy2Day.com's customer support is highly client-oriented. They focus on individual approaches for each problem or dealing with different clients. This element makes the company stand out in the industry. The official contact details for BeHappy2Day.com are:
You can send a letter to the company via;
Be Happy International
Danzigerkade 23D
1013 AP
Amsterdam
Netherlands
You can also directly contact the company's customer support via;
Our Verdict: BeHappy2Day.com is a good option to meet a foreign bride
BeHappy2Day.com is a legit online dating and marriage agency. It features numerous positive elements, like high-quality profiles, a wide range of services, and ample security.
There are also thousands of attractive women from Eastern European and Latin countries to choose from. However, there are still risks of getting scammed on the platform.
BeHappy2Day.com discourages its users from sharing their personal email addresses and telephone numbers in letters or live chats. Instead, they recommend disclosing the information on one-on-one meetings only.
Wanna find out how to meet an amazing foreign woman and have experience in International dating, but you have no idea how to start it. Keep calm, we are right here to help! ☝️ Ask Krystyna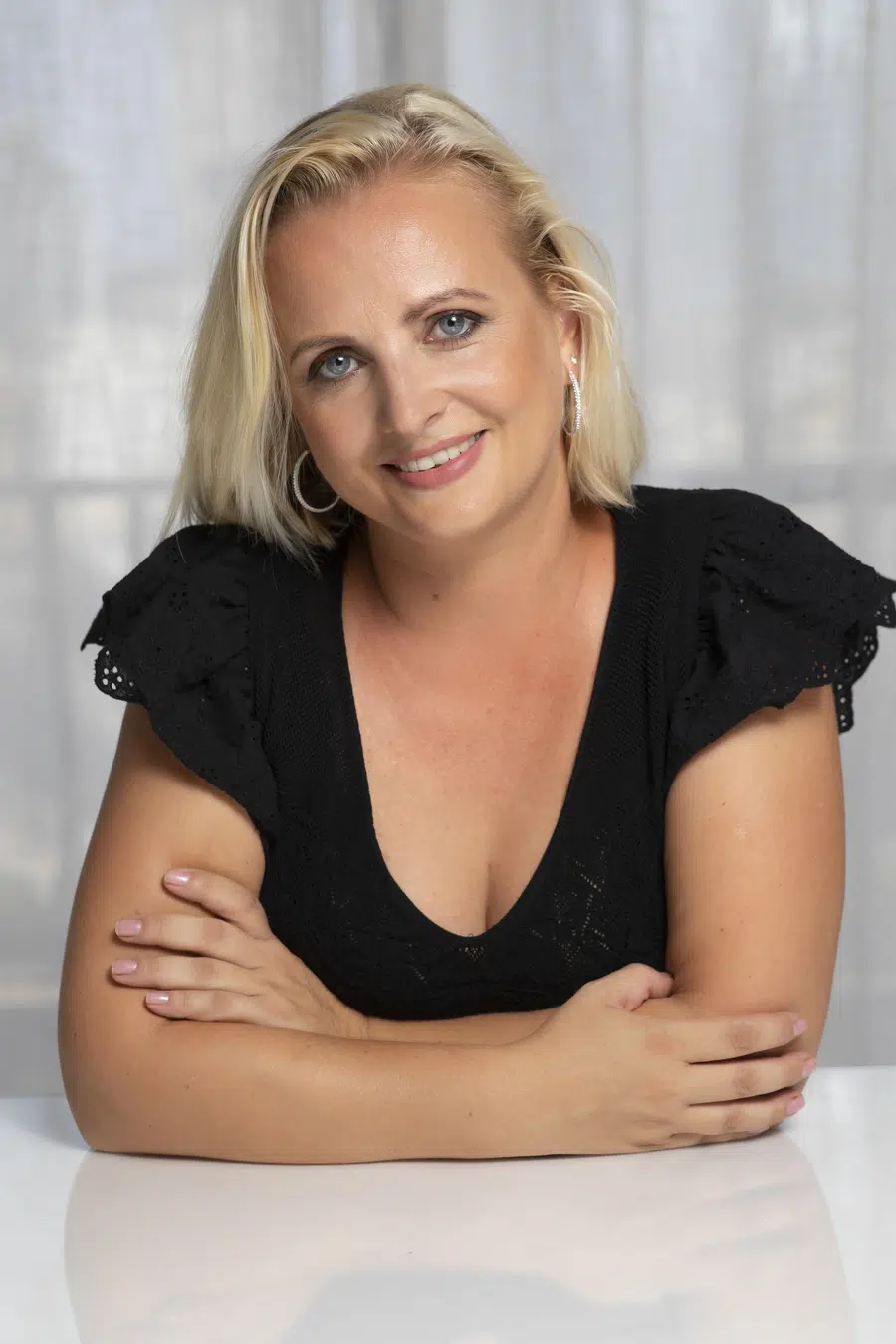 Krystyna is a blogger, coach and iDate speaker. She has been working in online romance and International dating industry since 2012 and is passionate about identifying the romance scam and giving dating tips and hacks. Join Krystyna for the dating service reviews and for finding ways to succeed with dating.
Krystyna focuses on International dating, which involves teaching men communication skills in a cross-cultural environment. She has been featured in many major publications including
DatingAdvice
,
Space Coast Daily
&
SWAGGER Magazine
.
Looking for more information? Feel free to get in touch to ask your questions or give feedback (see here:
Contact Krystyna
).