With a name like SimpleFlirts.com, you may think you are in luck. You'll simply flirt, find the love of your life, and live happily ever after.
But as with all online dating sites, we've gotta ask: Is SimpleFlirts legit or fake? What are your chances of being scammed on this platform? Should you even risk it? 
Are you flirting with disaster?
To answer all these questions and more, I've got a complete review on SimpleFlirts.com for you.
Spoiler alert if you are in a hurry: Don't risk signing up to SimpleFlirts. It ain't worth it.  
SimpleFlirts.com: A Summary of the Service
SimpleFlirts is a Netherlands-operated online dating service. Meteor Interactive BV, a digital marketing company operates the site, and the company runs various other online dating platforms like MeetFlingsOnline.com, InsecureNeighbor.com, and OnlineLocalFlirts.com. 
According to the company's About Us page, SimpleFlirts.com is "an online entertainment and networking website." It provides an opportunity for like-minded individuals to connect, flirt, and even fulfill their "wildest fantasies." (#hookups, anyone?)
The dating service is relatively new. Many of the other dating platforms I review have been in business for a decade or longer, but SimpleFlirts.com was created in 2019. At the time of writing (2022), the service is merely 3 years old. 
Overall, the website seems real, and the homepage makes a relatively good first impression. The design is clean and modern-ish. It's easy to navigate – you can log in, sign up, and read why SimpleFlirts is "right" for you: 
This operator is BLACKLISTED. We conducted this review to see what they're all about and what they offer. Keep in mind this site review is purely informative. We recommend you use the below brands instead, for a safer experience.
How Do You Set Up Your Profile at SimpleFlirts.com?
It's easy to set up your profile at SimpleFlirts.com. When you are on the homepage, you have two options: 
Register with Google (so you use your Google account) 

Fill in information
If you choose the second option, you need to fill in: 
Then simply click "sign up for free." 
You'll need to agree to the site's terms and conditions – which are worth a read through to know exactly what you are signing yourself up for. 
(And trust me, you'll be shocked to find out exactly what this service is about. I've got more on this soon!)
Does SimpleFlirts.com Have a Mobile App?
SimpleFlirts.com doesn't currently have a mobile app on the App Store or Google Play Store. 
The website is mobile-friendly, so if you do decide to sign up, you can use it on your desktop PC, smartphone, and tablet.  
User Quality in Our Check: The Profiles on SimpleFlirts.com
I always do a user quality check when I review an online dating service. SimpleFlirts.com is no different. 
I found the site has a lot of fake profiles, and the reason for this is unusual but clear. 
Even at the bottom of their homepage, SimpleFlirts.com notes the company uses fictional profiles that's marked with a heart icon. 
These profiles are only there for entertainment purposes. So you can chat, flirt, and fulfill your fantasies – but you can't make physical contact (obviously, because the profiles aren't real). Essentially, you flirt with a chatbot—iRobot or Blade Runner, anyone? 
The heart icon is tiny, and you may be forgiven to think that the heart simply means that other members "heart" or like the profile. You may not even realize you are putting all that flirting into a fictitious profile and being chatted up by a program! 
Your chances of true love swirls down the drain once you realize you've been chatting to a bot program.  
Not sure if you even want to still consider signing up to an online dating company that admits to filling their site with fake profiles.   
Besides the company admitting that they have many fake profiles on the site, the false profiles also look fake. The photos from the fake profiles are copied from other websites, and a reverse image search confirms this.
Usability and Interface of the SimpleFlirts.com Platform
You don't need to worry about having a tech degree to use SimpleFlirts.com. The site is user-friendly and easy to navigate.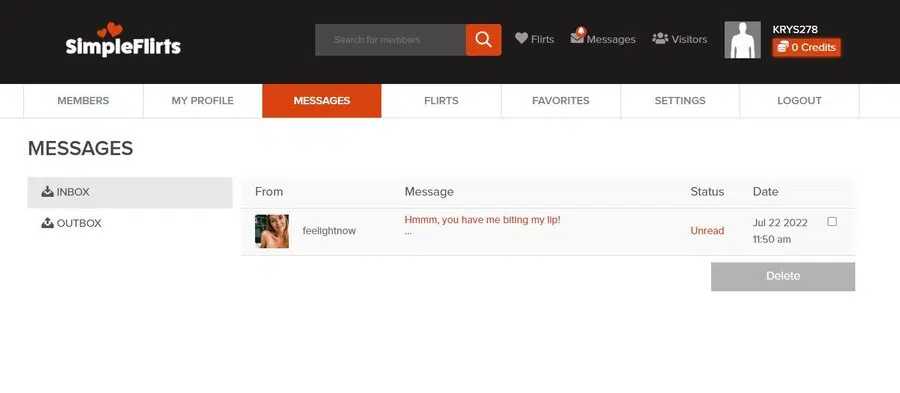 Plus, there aren't a lot of bells and whistles (aka special or unique features), making SimpleFlirts one of the most basic dating sites. 
Comparing Free and Fee-Based Services at SimpleFlirts.com
There is a very clear distinction about the free and fee-based services on SimpleFlirts.com. 
If you want to message anyone (even the fake profiles), you need to buy credits.
You don't need to worry about using the credits for other services because there aren't any. No translation. No buying gifts. Zero. Nada. Zulch. 
The SimpleFlirts.com Costs in an Overview
Buying credits on SimpleFlirts.com is pricey. You pay in dollars, and depending on where you live, your bank may charge you foreign exchange fees too. 
What's interesting is that the price per message changes depending on how many credits you buy, so buying 16 credits at a time is your cheapest messaging option. The next best option is buying 300 credits. 
Your credits expire after 3 months if they aren't used, and you can't redeem your credits for cash. Nor can you get a refund. 
There are no recurring credit buying options, so to keep messaging, you need to keep going through the lengthy hassle of buying more credits. 
Here's how much you pay for the credit bundles and how much each message in that bundle will cost you: 
You can only pay via a Visa or MasterCard credit card. 
Customer Reviews of SimpleFlirts.com at TrustPilot
There are no customer reviews of SimpleFlirts.com on SiteJabber as there is no profile for the dating service. 
However, on TrustPilot, there is only 1 review. The SimpleFlirts.com user rated the dating platform as 100% bad. 
The review talks about how the dating site is fraudulent because the site tricks you into engaging in conversation with fake profiles. Who'd like to pay to talk to a computer, right?
ScamGuard.com has 7 reviews of SimpleFlirts. All of the reviews are negative. 
You can only chat on the site. There is no way to get the email address or number of the person you are interested in (even if they are real). 
All the user recommendations are to stay away from SimpleFlirts.com.   
How Do I Delete My SimpleFlirts.com Account?
The terms and conditions of SimpleFlirts.com contain no information about how you can delete your account, nor is there an FAQ section to address this. 
However, once you've signed up to the service, you can delete your profile in your profile settings. 
If you run into any difficulty, you can reach out to the customer support team via email.
Our SimpleFlirts.com Verdict
In short, I cannot in any good conscience recommend SimpleFlirts.com. 
There are just too many red online dating flags that are screaming at me to stay away. Of course, I cannot decide what you should do. 
Reasons why I'm not recommending the SimpleFlirts.com online dating platform: 
Do yourself a favor and give SimpleFlirts.com a miss. You'll only end up spending all your hard-earned money on fake conversations with bots. 
You can rather choose legitimate online dating services where you have much higher chances of meeting your true love. Unfortunately, scammers are everywhere, and they are getting smarter by the minute. So you always, always need to beware and be careful. 
Looking for online dating sites that ARE worth your time? Then check out my comprehensive reviews of: 
Wanna find out how to meet an amazing foreign woman and have experience in International dating, but you have no idea how to start it. Keep calm, we are right here to help! ☝️ Ask Krystyna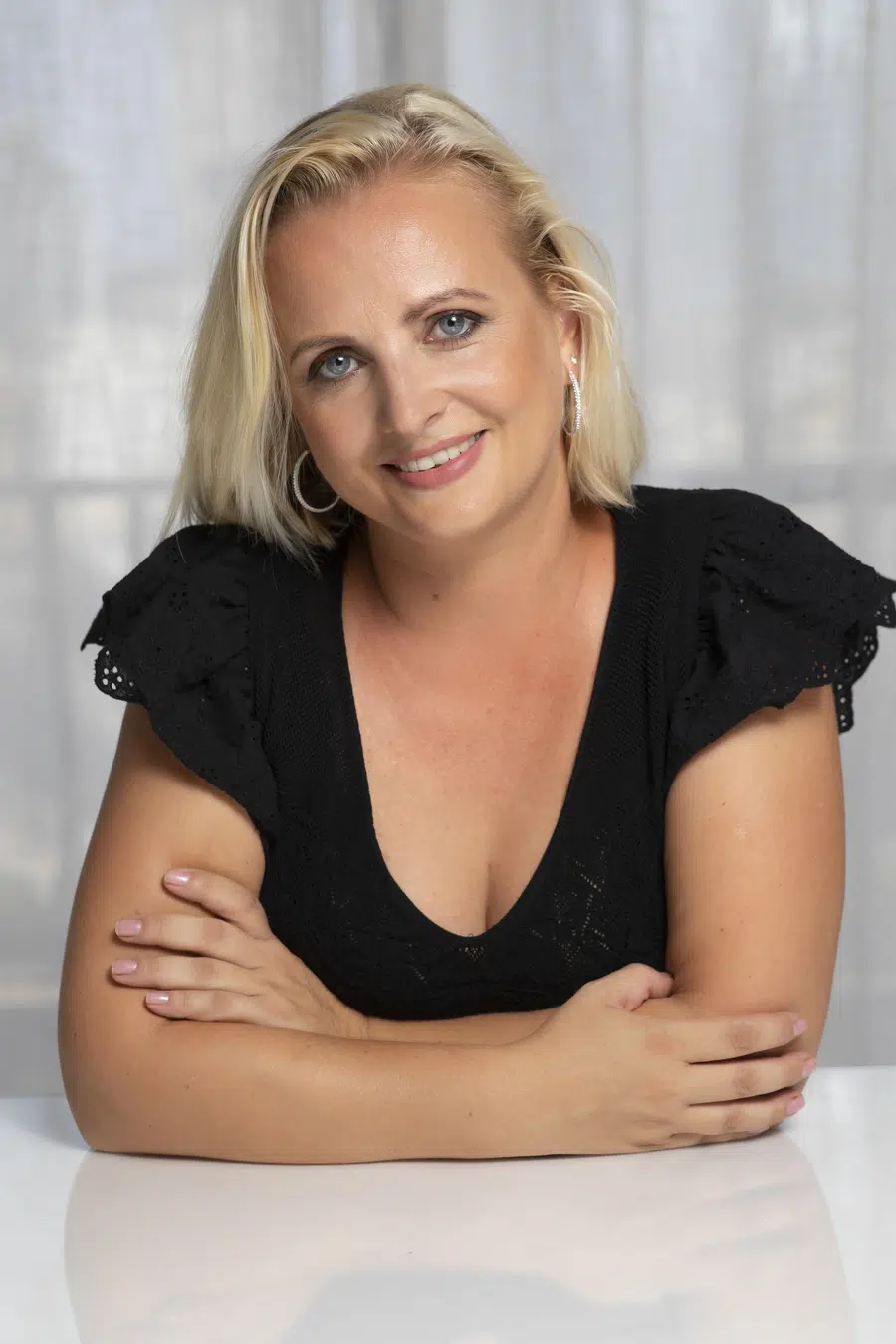 Krystyna is a blogger, coach and iDate speaker. She has been working in online romance and International dating industry since 2012 and is passionate about identifying the romance scam and giving dating tips and hacks. Join Krystyna for the dating service reviews and for finding ways to succeed with dating.
Krystyna focuses on International dating, which involves teaching men communication skills in a cross-cultural environment. She has been featured in many major publications including
DatingAdvice
,
Space Coast Daily
&
SWAGGER Magazine
.
Looking for more information? Feel free to get in touch to ask your questions or give feedback (see here:
Contact Krystyna
).