Not just online dating, dating itself is quite difficult as it is. The coronavirus pandemic and the months-long lockdowns resulted in many people being confused on how to go about this novel concept, online dating. We recommend you to read the following article: "Online Dating during Pandemiс: Trends & Challenges".
And now that things are going back to normal and it is becoming safe again to date in person, at times it can be scary out there.
This post will discuss some funny and sexy questions to ask a girl on an online date.
25 Funny & Sexy Questions for Online Date Nights
Although you may have lots of pressing questions to ask your date on an online date when you put a lot of weight on their answers, it can put them off. Instead, enjoy the process and have some fun! Once you've started going out on dates, you will find out whether you're compatible or not with her.
Here are some funny and sexy questions to ask when you're on online date night. These questions will help you understand your date more and have fun in the process.
1. What's something that you're passionate about?
This is a good question to ask if you want to know what she thinks of herself and what she likes to spend her time on. Many ladies enjoy talking about what makes them tick.
2. What was your first impression of me?
This is a fun way of knowing what your date thinks of you. Did you make a great impression? Her answer will help you decide whether to move forward.
3. What made you interested in me?
The internet is where people feel much comfortable sharing their wildest desires. If she genuinely likes you, she will let you know what caught her eye about you and why she finds you attractive.
4. What's the first thing that attracts you to someone?
This type of question helps you to know what your date expects from you. For instance, she could say that she likes men with strong perfume. You will be better prepared when you meet.
5. What is your idea of a perfect relationship?
Here, let your date describe how the perfect relationship seems to her. This question will help you to adjust accordingly based on what she wants. If she says that in a perfect relationship, both of you should be honest and there for each other, then you will certainly know what to do.
6. What is the most romantic movie you've ever watched?
Movies are always a sexy conversation topic to indulge in and it shows that you're interested in her. It also helps to lighten up the mood. Probably, you can repeat the movie when you meet in person.
7. If you would ask me anything and I have to answer honestly, what would it be?
This is another fun question. It allows your date to ask you the burning questions that she could have. Whichever question she opts to ask, try to be as honest and interesting as possible.
8. If you were to go anywhere in the world for a vacation, where would you go?
This is a more uncommon question to ask your date. However, it can be funny and flirtatious and can make your date contemplate and smile. Also, her answer could provide you with ideas of where you can take care if it's possible.
9. If you were to spend the entire day doing something fun, what would it be?
This question will help you to know her go-to source of fun. From her answer, you can determine whether she's an introvert who enjoys doing home activities or she's an extrovert who likes to spend time out of the house.
10. Are you a fan of public display of affection or not?
Some people are obsessed with public display of affection whereas others dislike it. Asking this question will guide you on how you will handle her when you meet.
11. Do you believe in love at first sight?
This is another fun question that shows you what your date thinks of romance. Some people believe in love at first sight while others don't.
12. How was your first kiss like?
You do not have to be directly sexual when asking her questions to get her excited. Instead, you can ask her this simple question to get the conversation going.
13. Do you think you're a great kisser?
This is a great and sexy way of trying to open things up with a woman. Kissy talks often get ladies somewhat off-guard and she will be excited to keep talking to you.
14. What is the naughtiest thing that you have ever done?
When you ask ladies about their naughtiest things, they tend to open up the conversation more. However, it is important to understand that some people might be shy to share about them or may have not yet experienced wild experiences. However, in most cases, you will find that ladies have a wild side to their lives.
15. If I were there in person, how would you like this date to end?
This type of question sounds like a fantasy but women like it. By asking this question, both of you can allow your imaginations to go to the wildest extreme.
16. What is the hottest part of your body?
Ladies like to talk about themselves. If she is confident, she will tell you straight away. If she's a bit shy, be understanding.
17. What are the weak points of your body?
This is a very flirty question that gets straight to the point. More so, it lets her know that you want her and would like to know what part of her body makes you excited. However, be prepared for anything when you ask this question.
18. What is the sexiest outfit that you own?
When on an online date with a lady, her main intention is to impress you. She wants to look good for you. More so, she wants to appear sexy when you eventually meet. Therefore, this is a great question to ask when on an online date.
It will get her talking about her high heels, tight-fitting dresses, or even short skirts. She will automatically feel sexy by just talking about her wardrobe with you.
19. What is your biggest turn-on?
This is quite a flirty question that goes straight to the point. More so, it gives her the impression that you're interested in her and would like to know what she finds sexy. She will rise to the challenge and her answer will be nothing short of sexy.
All you have to do is keep steering the conversation topic in the right direction. However, be prepared for anything. What turns her on could be something that is out of the blues!
20. What is your sexual fantasy?
The naughtiest questions to ask ladies are usually the best ones. Crank up the heat and find out what she wants.
21. Where do you like being touched the most?
Who despises talking about their turn-ons? Where she enjoys being touched the most might be something you're not expecting. 
So, expect anything here.
22. What is the wildest place you have ever had sex?
This question may seem absurd but it is the kind of question to get you talking about sex on an online date night. It will excite your date and it increases the levels of heat and intimacy to the maximum level.
This question is typically considered a taboo, and if you break those lines, you can cross the intimacy line and get even closer. Before you ask this question, make sure that there is a build-up.
23. What's your favourite sex position?
No one! 
You should ask this question when you've become comfortable with each other and you're intending to spice up the mood. If she likes you well enough, she will be open with you.
24. Do you think of me a lot?
When you ask a lady this question, the answer that you receive will tell you how much you mean to her. If she thinks about you often, it means that she does take you seriously.
25. What do you think of threesomes?
This is quite a naughty question to ask and will certainly let you know how open-minded she is. Some ladies prefer threesomes whereas others are opposed to it. 
Whichever her answer is, you should not judge!
These are some of the funny and sexy questions that you can ask a lady when on an online date night. As your conversation gets going, you should have a great indication as to whether she is into it or not.
If she is getting along with your spicy questions and also asks some of hers in return, then that is a positive sign. From there, you can decide whether to take things a notch higher.
Wanna find out how to meet an amazing foreign woman and have experience in International dating, but you have no idea how to start it. Keep calm, we are right here to help! ☝️ Ask Krystyna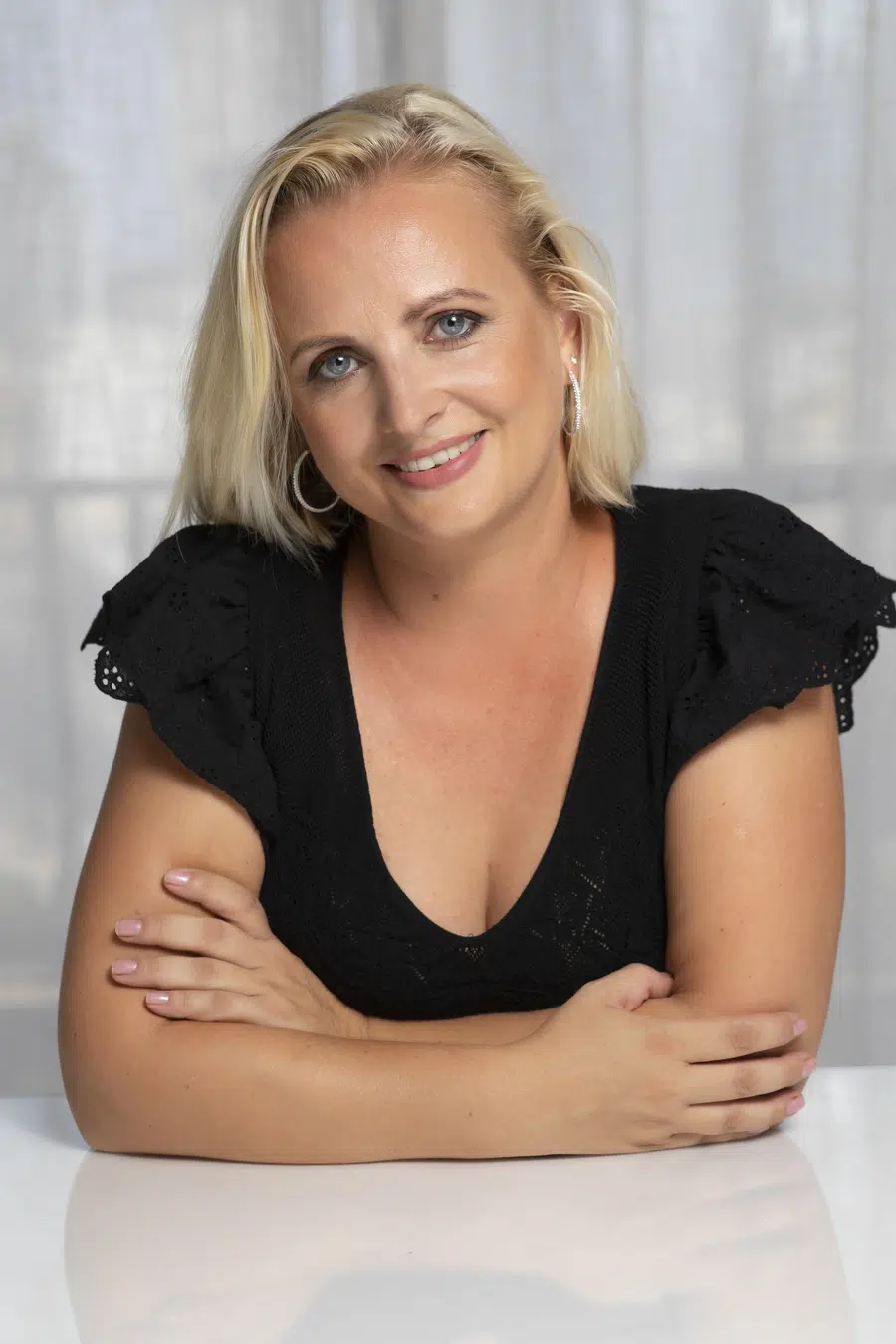 Krystyna is a blogger, coach and iDate speaker. She has been working in online romance and International dating industry since 2012 and is passionate about identifying the romance scam and giving dating tips and hacks. Join Krystyna for the dating service reviews and for finding ways to succeed with dating.
Krystyna focuses on International dating, which involves teaching men communication skills in a cross-cultural environment. She has been featured in many major publications including
DatingAdvice
,
Space Coast Daily
&
SWAGGER Magazine
.
Looking for more information? Feel free to get in touch to ask your questions or give feedback (see here:
Contact Krystyna
).