Technology has evolved significantly, and it has proven to be beneficial in many ways. Currently, people can find their perfect match through a dating site. Fortunately, you can interact with women and men from different parts of the globe depending on your preferences, among other factors.
If you are interested in online dating, you should read through this article since the main focus is on the major ethnic dating sites. Also, we'll get to look into how people from different ethnicities can correlate. If you are also wondering why ethnic dating sites have become popular over the years, you'll also get an answer to that question.
Reasons Why You Can Trust Krystyna
Why have ethnic dating sites become popular in the last few years?
The dating game has incurred significant changes over the years. Currently, you can meet someone special without the need to go outside.
The main issue is that some people lead hectic lives and don't have time to spare for social activities. For some people, the main issue is the lack of confidence. Each of these things is possible thanks to the presence of different dating sites that are also legitimate.
There are traditional dating sites, uniform dating sites, LGBT sites, affair apps, and senior dating sites. Currently, there is something that will suit everyone. Regardless of whether you are looking forward to getting into a serious relationship or whether you're in the pursuit of some casual fun, you will be matched with like-minded individuals on dating sites.
Is it easy to combine different cultures in one family?
It is easy to combine different cultures and become one family; however, there are some tips that you should adhere to in this case since there is some complexity involved. Each culture has its tendencies and assumptions regarding how they handle face-to-face transactions.
In some instances, there are no language-barriers; nonetheless, cross-cultural communication will prove to be a major issue. Some of the tips of how people from different cultures can  co-exist as one family include:
Did you know?
There are dating sites that are mainly focused on connecting people from different ethnicities.
Etiquette Should be Maintained
Each culture has its etiquette based on how they usually communicate. Before meeting, conduct enough research about specific cultures. If possible, you can undergo cross-cultural training. For instance, there are some cultures whereby there should be a formality as you start to communicate. Ensure you are also aware of the familiarity tokens.
Ensure there is Simplicity
In a conversation that is cross-cultural, you don't have to complicate things. Simplicity matters. Observe etiquette too.
How to build intercultural relationships?
There are many cultural aspects, including traditions, shared language, beliefs, norms, and customs. Without minding the culture, successful interactions across various cultures will rely on trust, respect, and being able to communicate effectively. Some of the tips that can help to build intercultural relationships include:
Interesting to know:
People from different cultures can interact and date successfully. Some people may assume it is impossible; however, there are many success stories currently.
TOP5 legitimate ethnic dating sites
Currently, there are many dating sites. Some of them are legitimate, whereas others are not. In this section, the main focus will be on legitimate ethnic dating sites. Some people may wonder what ethnic dating sites are; these are dating sites meant to connect people from different cultures.
Fortunately, there are classifications for dating sites, and you can join a dating site that will connect you to someone special, depending on your preferences.
For ethnic dating sites, you can interact with people from different cultures. After finding your perfect match, you can go ahead and learn more about their culture such that you can easily interact with each other.
Below are the top five legitimate ethnic dating sites:
Internationalcupid.com is one of the dating sites that connect people from different parts of the globe. The site has brought together singles regardless of their country of residence. With internationalcupid.com, the location doesn't pose a major issue.
This dating site will suffice for people who want to get into a long-term relationship with someone from different ethnicities. The services offered by the corporation are friendly. There are search facilities and messaging too, and you are bound to enjoy the user experience.
The pros associated with Internationalcupid.com include:
Considering the main focus is on ethnic dating, translation services come in handy. The charges on the dating site are also categorized into monthly, quarterly, and annually.
You are supposed to pay €29.98/ month. For the quarterly package, you pay €20/month. Finally, the annual package entails paying €10/ month.
CharmDate has more than 560,000 members and the response rate for both genders is admirable. The only issue is that the gender proportion is not as good. The dating site has too many men as compared to women. Also, women are not allowed to sign up on the platform to ensure a good balance between them.
Nonetheless, the men on the platform are not complaining, and they are satisfied with the number of women present on the platform. To enrol on the dating site, you are supposed to be 18 years old. As a man, if you are interested in dating a Russian or Ukrainian beauty, feel free to sign up. The platform has many successful love stories between foreigners.
The pros of the dating site include:
The payment on the platform is credit-based. You get two credits at €15.99, 16 credits at €96.00, and 100 credits at €399.00. The more credits you purchase, the lower the prices.
AsiaMe is among the many dating sites that normally operate internationally. The site ensures that you can connect with Asian beauties easily throughout the globe. You can access the site using the mobile app or the desktop site.
The platform has more women than men, and that is a good thing. The only females who can sign up are the ones of Asian ethnicity. The Asian singles can then connect with different men from other parts of the globe.
The pros of the dating site include:
On AsiaMe, you deal with credits. For two credits, you are charged €2 for each credit. For 16 credits, you are supposed to pay €6 for each credit. For 100 credits, you pay €3.00 for every credit.
For the monthly package, you pay €34.99 for one month. The quarterly package will cost you €23.33 per month, and the annual package will cost you €10/month.
This is an international dating site meant to connect interracial singles. The platform allows you to connect with women from Asia, Latin America, and Eastern Europe.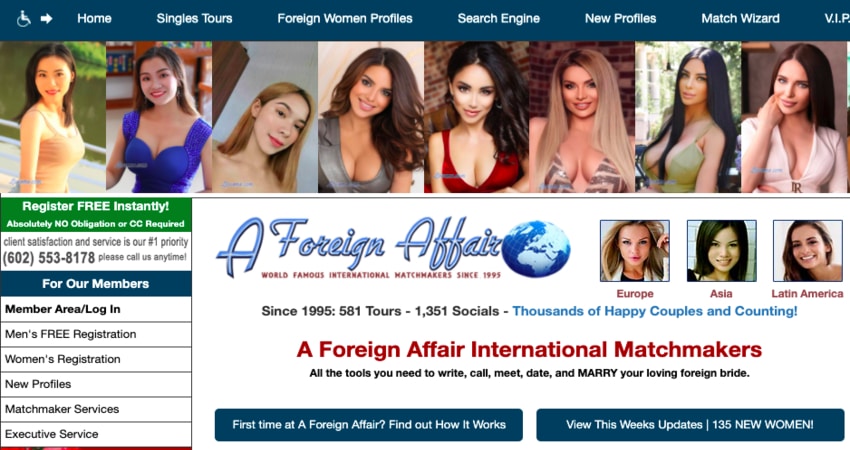 If you are not a platinum member, you are supposed to pay €9.99 for every letter. A platinum member, on the other hand, will pay &.49/letter. If you need phone translation services, you will part with €2 for every minute. Other members will pay €5.99 for every minute.
Are you interested in dating someone from another culture but you don't know how to go about it? If yes, you can try out each of the dating sites above.
Our Advice to You: If you are interested in women from Asia or other parts of the globe, please join one of these dating sites and get connected with your perfect match.
Also, there are tips on how you can engage a partner from another ethnicity. For starters, you can learn about their culture, among other important things.
About the blogger: For over 10 years I have been collecting interesting experiences as an International Dating Blogger & Coach. Online & international dating is not easy at all. My dating feedback as a (foreign / Ukrainian) woman who has a different view on men's preferences has really helped my readers to become successful in their International dating adventure.
In my posts I show a good eye for online dating topics, romance scam and cross-cultural relationships.
Looking for more information? Feel free to get in touch to ask your questions or give feedback (see here:
Contact Krystyna
).
Eastern European Women For Dating