In this era of social media dependency, the Internet is crucial for everyday life. It is used for activities like online shopping, connecting with family and friends, career networking, and even meeting new people through online dating.
For most people, online dating is the best place to find someone to chat with, travel together or start a serious relationship leading to love. Besides, more people have opted to date digitally either through dating sites or apps amid the pandemic.
Joining online dating platforms is easy. However, did you know that you should put together an irresistible dating profile for you to match with the right women? Read on to understand how an excellent dating profile can set you apart from the rest.
The Importance of Online Dating Profiles
In most relationships, women expect men to do the chasing. As such, most of them feel pressurised to write a lot or present themselves perfectly on their dating profiles. As a man, you strive to be the most outstanding person on the app or site. However, it is interesting to know that no one expects you to be perfect. The simplest and most genuine male dating profiles endear women.
Like an excellent recipe, an eye-catching profile is a mixture of several ingredients working perfectly for you. You will require well-captured photos, a pinch of humour, substantial bits of honesty, a spoonful of personality, a bit of thoughtfulness and attention to detail.
Writing a perfect dating profile is a challenging task, even for the best writers. It will help to keep the end goal in mind before you begin drafting your profile. The strategy is to find the perfect person for you and not a competition for the best woman on the app. Put effort into creating a great dating profile for you, and if you don't, women will assume that you cannot impress them in real life.
Whether you choose to be the attentive romantic, the spontaneous adventurer or the comedian, remember that your online dating profile is just like personal marketing. Put your best foot forward and watch as numerous women camp in your inbox.
How Do You Start a Dating Profile?
The most successful dating profiles involve a combination of describing yourself and what kind of woman you want. To start a dating profile, you need to go through the site to understand what profiles give successful results. Some sites require you to be brief and straight to the point, while others give you a maximum word capacity of between 300 to 500 words. Regardless of the dating app or site, here are sure tips on starting a dating profile.
It is crucial to make use of every tool that the app or site provides. Most people only do the bare minimum, which translates to the lack of visibility for their profiles. For instance, if the dating app allows you to upload up to ten photos, do it. Giving complete information shows people that you are available and interested in matching. You are likely to get more responses than when your fields are incomplete.
Instead of filling your profile with generic and boring information, make it captivating by giving examples when you talk about your hobbies. For instance, instead of saying I enjoy cooking, talk about the meal you enjoy cooking most.
Besides, if you like hiking, talk about your best trail. You can also go into details about the types of dating experiences you enjoy the most. Giving more details will most likely catch the eye of a woman who thinks you are perfect for them.
The temptation to present yourself as someone you are not, to appear perfect, is high. But, the majority of the people you are interested in will choose honesty over perfection. Give the correct information about your hobbies, career, and body structure and upload unfiltered, high-quality pictures.
What Should I Write in My Dating Profile on International Dating Sites?
Your dating profile on a local dating site may not work for you on international dating sites. You may have minimal or no similarities with other international singles. However, fundamental things like honesty, captivating writing and uploading high-quality photos should remain constant. Consider the following when writing your dating profile if you have an international audience.
You should avoid using phrases and colloquialisms that are only applicable in your local area. Your potential dates may not understand your native language. Use English as most international singles understand it, and even if they do not, they can easily translate to their language if they are interested in you.
State the Kind of Woman You Want
There are countless cultures around the globe. Ensure that you can accept the culture of the woman you want. On your dating profile, define the kind of woman you are looking for and specify their nationality if need be. For instance, Latina women are pretty emotional, unlike the Russian ones who are sophisticated. Looking for a beautiful woman is not enough, give precise details.
Include Captivating Hobbies
If you want to date international women, travelling should be at the top of your list. You can give examples of destinations you have travelled to before and what you enjoyed there. Women want to know if they agree to date you, you are willing to travel to meet them. Men who are spontaneous adventurers on their profiles are more likely to get matches with international women.
How to Make Your Online Dating Profile Distinct
A good profile picture will draw people to your face and body, while a well-written profile will draw people to your mind. Marketing yourself in a few paragraphs or less is undeniably challenging, but here are a few tips you can use to stand out and get responses and matches.
It is essential to list all your qualities, hobbies and desires before you begin writing your profile. Besides, you can ask friends to help you by pointing out your best qualities that you may not even know.
Always write positive things about yourself and what you want in a partner. A negative mindset will discourage potential love interests even if your photos stand out.
A well-written profile and excellent photos go hand in hand. Photos are what people will see first on your profile, make the first impression intriguing. Ensure your images are creatively shot and attractive. Preferably, upload photos of how you look currently, and do not forget to smile.
Besides, ensure that your lead profile image is a solo shot. Lastly, go beyond the headshot by uploading several full-length photos.
Actual Examples of Bad Male Dating Profiles
Some men have mind-blowing profiles on the online dating scene, others leave their profiles blank, and the rest write bizarre things, which are a huge turnoff. Here are some real examples of poorly written male dating profiles.
Online Dating Profile Examples for Men
If you want female users to choose your profile over others, you must create a good dating profile. Put effort into writing your bio as well as uploading perfect photos. If you need some inspiration, here are some online dating profile examples for men.
Short Dating Profile Examples
Most men think short means easier, but that is not always the case. You need to mention your most attractive qualities, spark her curiosity and make her swipe right or send you a message. The best way to start is to list some of your hobbies and interests, personality traits, what you love about your occupation and the qualities you want in your ideal woman. Here are examples of some short and spicy dating profiles.
I'll know it's time to delete (name of the app) when I can't go a day without you.

Regular flyer. Finance guru. Amazing surfer. Message me, let's talk.

Real Estate agent by day, wine connoisseur by night. What about you?

The perfect first date, biking, hiking or skiing.

Pilot.30+ countries. Yoga expert. Want in? Get in touch.
300 to 500 Characters or Less Online Dating Profile Examples
The most successful dating profiles are always 70% about you and 30% about her. If you have to write an extended dating profile, you want first to grab her attention, describe your career, give an idea of your everyday life, and describe what you want in a woman. Do not forget to add a call to action at the end. Here is an example.
We've got 100 years here if we're lucky. My long-term goal is to live life to the fullest. I am an investment analyst by day, and when the suit comes off, it's time for some fun! I enjoy surfing, live music concerts, skating, horse racing and taking trips. I appreciate a kind, creative, intelligent and spontaneous woman. Our first perfect date would be horse riding and a picnic later or perhaps catching a live music concert of our choice. Would you be down? Let me know.
How Do You Get Attention on Online Dating Sites?
If you want to get noticed more on online dating sites, follow the tips listed below.
View as many dating profiles as possible: 
most apps will notify someone if you view them. They will know you are interested in them and may end up messaging you if they like you.
They help you show someone you are interested in them without having to message them. Most apps and sites have a way of sending smiles or winking at potential matches. The more emoticons you send, the higher the chances that you will get noticed.
Make an effort to drop messages to profiles that you like to get noticed. Do not wait for someone to message you. They may never do it.
How Do I Get More Matches on My Dating Profile?
Receiving more matches on your dating profile is possible. Here are some random facts that you won't believe are true but that will increase your matches.
Verify Your Dating Profile
Most women are more comfortable swiping on verified profiles. Check the verification process of the app or site you use and follow the guidelines to get verified.
Incorporate Your Spotify and Instagram Accounts
Integrating your social media accounts into your dating profile allows potential dates to understand you better. You are likely to get more matches if women who view your social media accounts have the same interests as you and are comfortable with your lifestyle.
Use the App or Site Often
The algorithms of most apps and sites seem to favour frequent users. The more you are active on the app, the more matches you get. The system is designed to get active users chatting as soon as a match happens. Besides, the more active you are on the app, the more you come across new potential matches.
Purchase the Premium Membership
Upgrading your dating profile to a premium package may increase your visibility and your matches. Besides, most women who are on the premium packages are looking for serious relationships.
Update Your Dating Profile
Most apps and sites will treat you like a new user when you update your photos and bio. The algorithm will show your profile to more people hence increasing your potential matches.
Pets can potentially make your profile look more attractive. However, do not just post random pet pictures to woo ladies. If you have a pet, take cute photos with it and post for more potential matches.
Creating an outstanding online dating profile could be overwhelming, especially for men, as women expect them to do all the chasing. The pressure to appear perfect may take a toll on you. But, our advice to you is to be truthful, be true to yourself and be specific with what you want.
Hopefully, you now understand how to write an excellent dating profile that will grab the attention of your potential matches. Just remember, women do not expect you to be perfect, but your dating profile can be!
Wanna find out how to meet an amazing foreign woman and have experience in International dating, but you have no idea how to start it. Keep calm, we are right here to help! ☝️ Ask Krystyna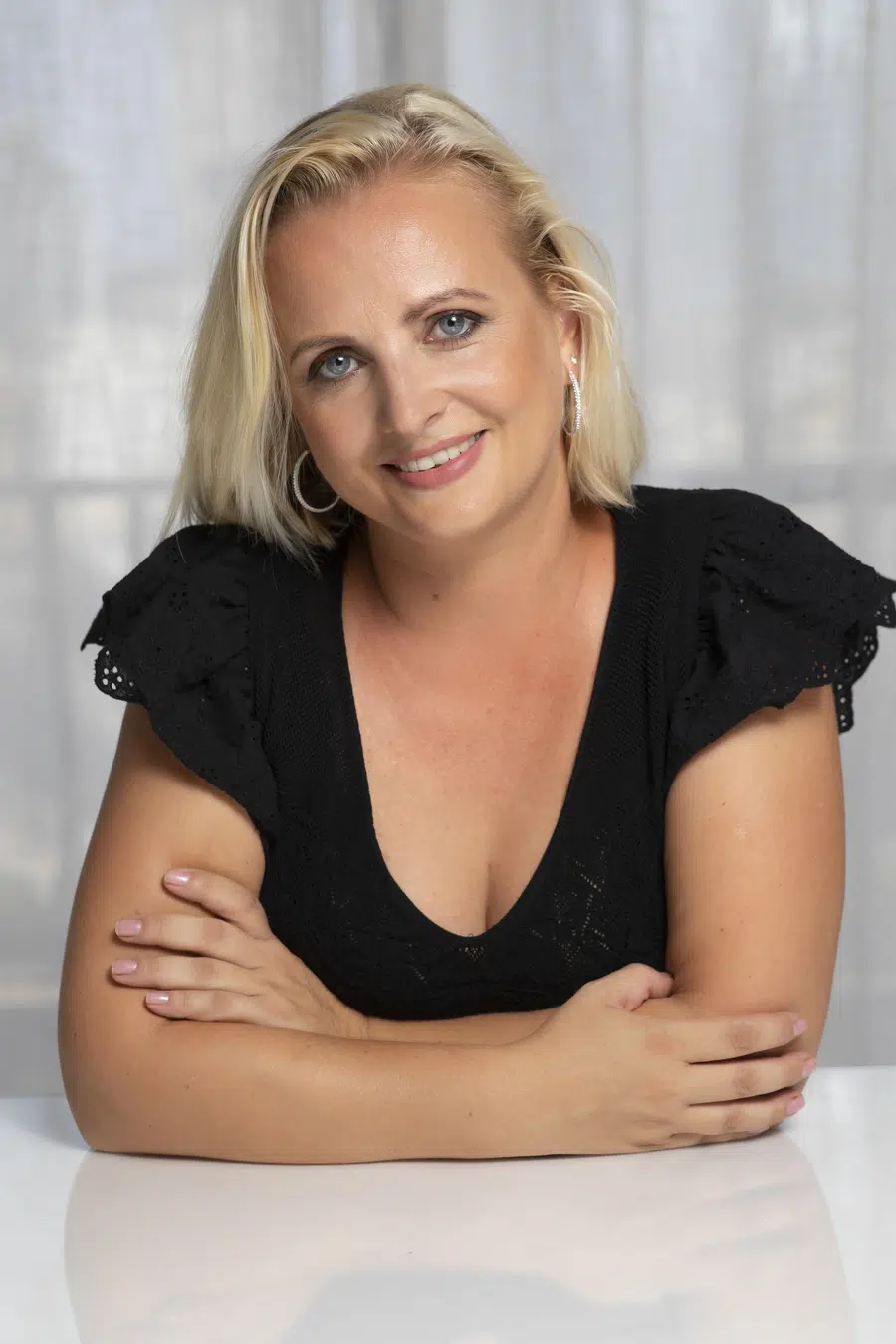 Krystyna is a blogger, coach and iDate speaker. She has been working in online romance and International dating industry since 2012 and is passionate about identifying the romance scam and giving dating tips and hacks. Join Krystyna for the dating service reviews and for finding ways to succeed with dating.
Krystyna focuses on International dating, which involves teaching men communication skills in a cross-cultural environment. She has been featured in many major publications including
DatingAdvice
,
Space Coast Daily
&
SWAGGER Magazine
.
Looking for more information? Feel free to get in touch to ask your questions or give feedback (see here:
Contact Krystyna
).