Iran launched its first dating site to encourage young men and women to marry. Since then, many dating sites have started with the aim of matching people. Finding the right Iranian dating site for you is essential. As much as dating is not a big scene in Iran, single men and women use the internet to find spouses.
You will discover some of the best dating sites to meet Iranian singles in this article. It's also important to bridge the cultural gap by learning something about their dating culture. These are the basics you need to understand before dating an Iranian.
The Best Iranian Dating Sites to Find a Match
Are you looking for legit Iranian dating sites and apps to try in 2023? Well, this guide is for you. Iranian dating sites and apps are platforms designed to connect Iranian singles looking for romantic relationships, friendships, or even casual dating. 
Over the years, the Iranian dating scene has significantly grown as technology advances resulting in the establishment of numerous dating sites and apps. We will review the best Iranian dating sites and apps worth a try in 2023.
Here are the best two Iranian dating sites to find a compatible partner who suits your dating preferences
The platform is designed for Persian singles to meet and connect for serious relationships, friendship, love, and marriage. The site was launched in 2001 and is open to men and women of all ages and backgrounds. It has a large user base of more than 13 million singles and offers a range of features to help users find and connect with potential matches.
That makes it one of the biggest niche sites for Persians, Muslims, and Iranians. It is responsible for matching people who have ended up in marriage. Forty-five per cent of the population are women and fifty-five men.
Costs
IranianPersonals.com offers both free and paid membership options. For free membership, users can create a profile, upload photos, search for matches, and send and receive messages. However, free members have limited access to some of the site's features.
While on the other hand, the Platinum membership is a paid membership option that offers more features and functionalities than the free option.
The cost of a Platinum membership varies depending on the length of the subscription:
Features and Services
IranianPersonals.com offers users many features and services to help them find compatible partners. The website offers both free and paid membership options.
Free members can usually create a profile, browse other profiles, and send messages to other members. 
Paid members have access to additional features, such as the ability to send and receive messages from all members, advanced search options, and more. 
Other features and services offered by this site include search and messaging features. Also, IranianPersonals.com has a mobile app that is available for both iOS and Android devices.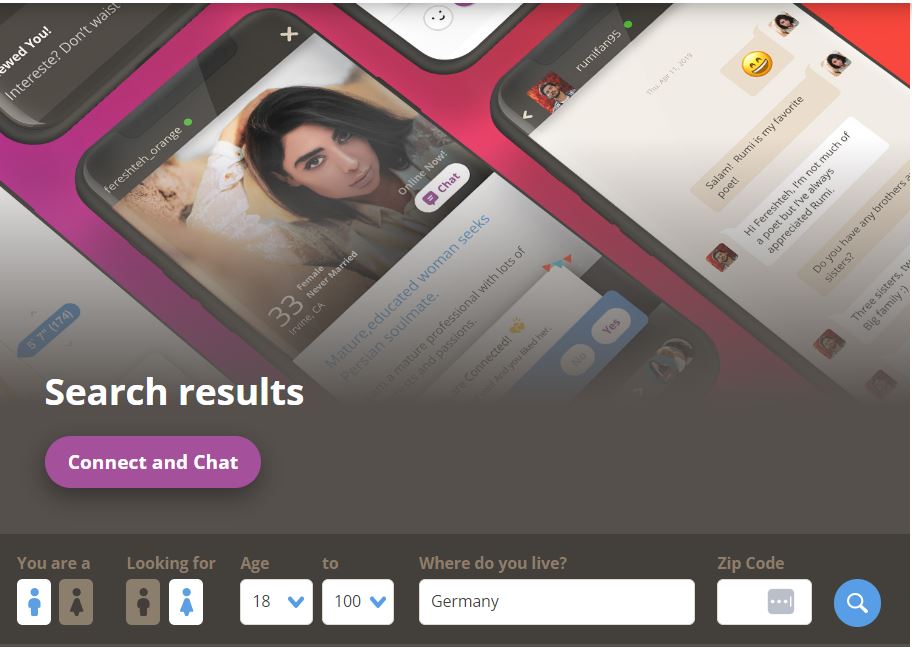 Safety
IranianPersonals.com takes user safety and security seriously and has a range of measures to protect users' personal and financial information. The site uses HTTPS encryption to secure user data and prevent unauthorized access. It also requires users to verify their accounts during registration and provides safe payment methods. 
In addition, this has a team of moderators who monitor the site for fake profiles, scams, and other suspicious activity.
Profile Quality
Most profiles on this dating site are rich with details, including physical characteristics, hobbies, and interests. Besides, most users have multiple photos and short video introductions.
Usability
IranianPersonals.com has a simple interface that makes it easy even for new users to navigate. The pages on this site are well-sectioned, and all buttons and tabs are easily accessible.
IslamicMarriage.com is a Muslim matrimonial website that helps Muslims find their partners for marriage. This dating site is owned and operated by IslamicMarriage.com, LLC, based in the United States. The website has been operating since 2002 and has a large user base, including Muslims from diverse backgrounds and countries.
Costs
IslamicMarriage.com provides both free and paid memberships. The free membership allows users to use the service for free but has limited features. While on paid membership, known as Platinum, you get full access to all website features. 
The cost of a paid membership varies depending on the length of the subscription plan selected.
Features and Services
IslamicMarriage.com offers a variety of features to help Muslims find a partner for marriage. However, the availability of features may vary depending on whether a user has a free or paid membership. All users can use the advanced search feature and send and receive messages to other users on the website. 
However, users with free membership have limited messages they can send. Also, the site has chat rooms, a mobile app, and offers a matchmaking service. Besides, paid members can use the video call feature to communicate with other users on the website.
Safety
IslamicMarriage.com has several measures in place to help protect users from scams, fraud, and inappropriate behavior. Such measures include SSL encryption, account verification, the ability to report and block other users who may be abusive or inappropriate, and many more.
Profile Quality
Most of the profiles on IslamicMarriage.com are relatively detailed. The profiles are usually created by users and include information about their background, interests, and what they are looking for in a partner. Users can customize their profiles to include details such as their age, education, occupation, religious beliefs, and more.
In addition to basic profile information, the site allows users to upload photos and videos to their profiles explaining more about themselves.
Usability
IslamicMarriage.com is user-friendly and easy to use for users of all levels of experience. It has a clear navigation system, initiative, and responsive design. Besides, the search functionality and the user-friendly profile creation process make the usability of this platform more straightforward.
How Do We Review Iranian dating sites
We review Iranian dating sites through well-elaborated criteria to ensure we evaluate them thoroughly and fairly. We consider several factors, such as reputation, usability, profile quality, services, security, cost, mobile experience, features, and many more.
By following this criterion, we thoroughly evaluate Iranian dating sites and decide which site(s) to use.
What Is Dating Like In Iran?
Dating in Iran is frowned upon by family, religion and traditions. Dating there has its challenges because, for many years, they had arranged marriages. Matchmakers would find a partner for them while still young. They grew up knowing who they would marry, and there was no much need for dating. Most of the romantic interactions out of wedlock are forbidden by the state.
Local young Iranian men and women are not likely to go on dates publicly and display their affection. If you are looking to date any single person from the country, you should be flexible and adjust to their culture. However, with the rapidly changing times, online matchmaking services have expanded. People have embraced the use of the internet to find partners.
Interesting to know:
Almost all Iranians between eighteen and thirty-five years are not married. The numbers became worrying, and that is why the government helped launch a dating website. The aim was to help young people look for partners to marry.
The Most Important Things to Consider When Dating Iranian Singles
The marriage intention is very much needed when dating them. They are free to date anyone nowadays and interact online and offline. But you have to date with the mentality to marry at one point. The family will know who their daughter or son is going out with. You will meet the parents very early on in the relationship.
Some of the families do not accept the idea of dating; you will be required to interact with the singles only as friends. To go out with an Iranian single, especially when in the country as a foreigner, will be challenging. Online dating, however, is a bit different; it won't be as free and open as it is in the west, but it's better.
What to Know About Dating an Iranian Woman?
The reality is that these women are beautiful, educated and very cultured. You need to know that you have to impress them at all levels. Image is important to them, not just your looks but societal status and how you present yourself. They are proud of their religious and traditional values that are upheld by their society.
As a foreigner, it is best to go with their pace, especially with most romantic issues. Some Iranian women have embraced western ways in terms of dating, but some haven't.
The kind of woman you meet will determine how you interact with them. Most of them are very conservative and set in their ways; it's essential to respect their values and religion. They prefer Iranian men for relationships and marriage.
It is mainly because most foreigners don't understand their culture. If you want an upper hand with them, learn something little about their culture and values before initiating any interactions. That way, you will not be crossing any boundaries.
Did you know?
Not being able to find the ideal partner and poverty is one reason why marriage rates were dropping in Iran. With online dating, more people have the chance to meet their right match.в
How to Find the Best Iranian Dating Service
The country doesn't have many dating services. But there are international sites with access to Iranian singles. You should be careful with dating online because it's easy to be a victim of a romance scam. That is why you need to find the best dating site. You first need to go through various websites and check the member's profiles. That is the best way to determine if the singles are real Iranians.
You need to consider the population; the best site has to have many singles for you to double your chances at love. Their communication services also matter. For a foreigner, you need advanced features that can enable easy communications despite the language barrier. Most international dating sites offer translation services to make the chats as smooth as possible.
Iranians are fascinating people; they are worth meeting and building strong relationships with. Their different cultures and values will elevate your dating experience. Their mentality of marriage and dating are constantly changing with time. That is primarily because of technology and western influence.
They have found husbands and wives online, and the success stories inspire more singles to try internet dating. Not being married at thirty years is still stigmatized by the local community, especially for women. The pressure from society makes women eager to be married before they hit thirty. You can meet Iranian singles in any of the sites mentioned above.
Countries have different dating cultures, and the unspoken rules can make or break your relationship. Learning is the only way to play by their rules and adjust your mentality.
Last updated on February 17, 2023
Wanna find out how to meet an amazing foreign woman and have experience in International dating, but you have no idea how to start it. Keep calm, we are right here to help! ☝️ Ask Krystyna
Yuliya is a lover of travel and delicious food, as well as a fan of social media. She tests foreign dating websites, fights against online dating scam and writes useful articles about international dating (much of the information is based on her own experience!). She became very passionate about the foreign dating space and got a lot of expertise there.