Love has no boundaries!!! 🙂 
You can fall in love with someone you are not in the exact geographical location with. If you are looking for love in another region, online dating is the best method to go for. There are numerous long-distance dating sites that you can rely on to find someone you are compatible with.
You should note that online relationships have led to lots of marriages. In this piece, I will discuss everything you should know about long-distance dating sites & apps. In the end, you will be aware of the dos and don'ts of long-distance relationships.
Do online long-distance relationships work?
First, communication has to be consistent. Since you cannot spend time together the traditional way, it would be best that you talk with your partner about how your day was. Showing love to your ideal partner is also an essential aspect.
To achieve this, one way would be to text them in the morning or at night before you sleep. You can have a list of why you are interested in the person and what makes you happy. Note that dealing with the internet can be stressful; therefore, be mindful that your partner has a tight schedule.
It is, therefore, critical that you show respect to your partner. Your partner not replying to your message is not an indication that they are no longer in love with you. From experience, I would say an online long-distance relationship will lead to a marital relationship if you as a couple are determined to make it work.
Did you know?
Did you know that a 2018 study indicated that about 60% of long-distance relationships last? For an online long-distance relationship to work, you have to be committed as a couple.
Can you fall in love over a long distance?
Well, to love someone, you don't have to touch or kiss them. It is possible to love over long distances as you get to know one much better and understand their desires.
Like any other relationship, you have to work on building long-distance relationships. There is no average time when you can fall in love with a person you are interested in online. To some, it might take at least one month; for you, it might take longer.
By talking to someone you are interested in and have the same desires, it is possible to have feelings towards them. It can then develop into love and a deeper connection. Be sure that you share the same interests and goals with someone you want to pursue.
In my opinion, distance does not determine whether you will fall in love with someone or not. It is interesting to know; love crosses continents. Love depends on the intense feelings and attachment you develop towards a person you are interested in.
Interesting to know
Long-distance relationships allow you to form a deep emotional connection with your partner? In a study, researchers discovered that about 27% of couples today have never lived near each other. Half of the participants in the research had met online.
Starting a Long-Distance Relationship Online – What You Should Know
The idea of long-distance dating can be exciting. However, a single mistake can lead to a terrible experience. To prevent this from happening, you have the opportunity of making things suitable from the beginning. Physical contact is critical for any couple; however, this won't be possible with an online long-distance relationship. You should know that the only way to feel close to your partner is through chatting and video-calling.
The second thing you should know before you dive into an online long-distance relationship is that trust is vital. Therefore, if you are one to get jealous, you ought to be ready to tame yourself. To overcome jealous thoughts, it would help if you stop overthinking in all situations. For example, you should understand that your partner will not always be free to talk.
Communication is critical for an online relationship to work. Before you think of getting into a serious relationship, you have to learn how to communicate. You have to be ready to let go of minor arguments and resolve issues properly.
The last thing you should know before beginning the relationship is that many people may not understand your decision to engage in long-distance relationships. Your family and friends may have questions that you consider to be insensitive. Dealing with such situations can be stressful to you. I would like to let you know that their opinions don't have to bother you as being committed can lead to a healthy and lasting online long-distance relationship.
How to Choose a Reliable and Legit Long Distance Online Dating Service?
Due to the increase in the number of people pursuing long-distance relationships, numerous dating sites are available for you. However, you shouldn't go for any online dating websites you come across. Here are things you should look into when choosing a service.
Before you use any online dating service, it would be best to know the experience of other individuals. Clients often come back to review their experiences after using the service. These reviews will give you insight into what you will get. It would be best if you relied on long-distance online dating services that have gained more positive reviews than negative ones.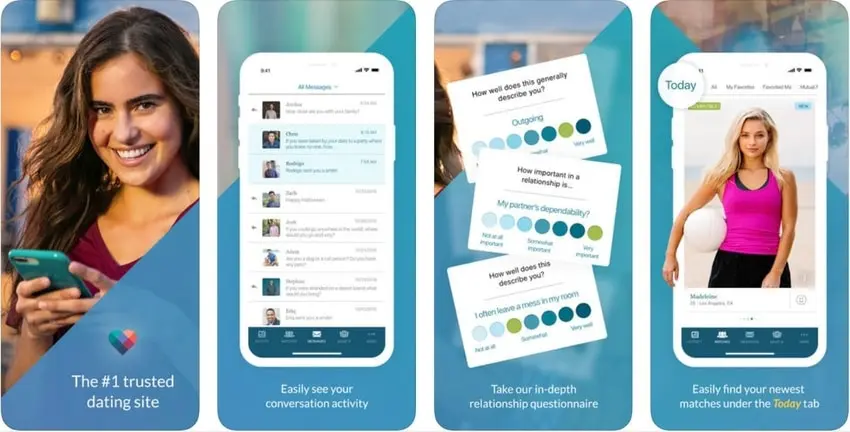 The second factor when choosing an online dating service is experience. Our advice to you is to go for a site that has been operational for a long time. For a dating site to exist for such a long time implies that it offers credible services to satisfy the demands of the clients.
You should note that there are free and paid online dating sites. Some paid services operate like scams and feature lots of bot users, so you should be careful when signing up for their services. On the other hand, some free sites may offer low-quality services or bombard you will constant ads. By going through reviews, you should be able to find a free or fairly-priced service that offers decent service.
TOP3 Long Distance Dating Sites & Apps
The next step is to find a long-distance dating site & apps that you can rely on. You have to be cautious about the site you pick as it determines the success of your long-distance relationship. Here are the top online dating sites & apps that you can consider.
Are you searching for a woman with whom you can have a long-distance relationship? eHarmony is one of the sites you should consider (read more: eharmony Review: Is eharmony.com a good dating site?). The site's mission is that every individual finds love in a suitable partner. To achieve this, you will be required to complete an online compatibility quiz. The quiz aims to help you learn more about yourself and your preferred partner.
Since eHarmony has a list of your preferences or goals and interests, it will provide you with individuals considered suitable to you. This allows you to mingle with someone you can easily fall in love with.
A good thing about eHarmony is that you do not have to pay any amount to sign up. This, however, means that you are limited to access certain features on the site. To access them, you can consider paying for their subscription plans. 
The plans are as follows.
We recommend eHarmony as it gives you a chance to know yourself better and choose what you would like from your partner. Another good aspect of the dating site is that you have an opportunity for a free trial to check whether it suits your needs.
Loveme.com (A Foreign Affair)
Loveme.com is an introduction and single tour company that is recognized internationally (read more: LoveMe.com Review: How reliable and serious is A Foreign Affair?). The site gives men the opportunity to meet women from at least eight countries. You are also given a chance to communicate with the woman you are interested in through chatting and calls.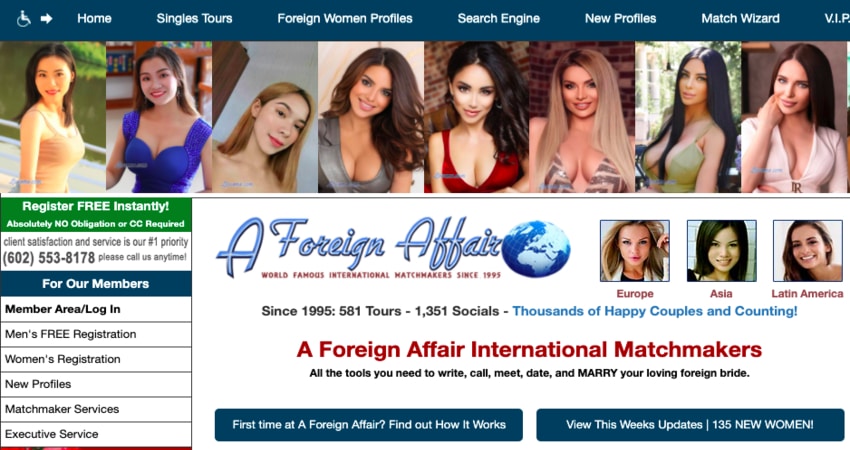 You might be wondering what is so good about Loveme.com. Well, it allows you to send flowers and gifts to the individual you are pursuing. The dating company plans for romantic tours with all expenses catered for. If you are unfamiliar with the language used, you will get free translation services.
Creating an account with Loveme.com is free. You also get to go through the different profiles without paying for them. However, if you identify a woman you are interested in and want to send a message, you'll be required to pay $9.99. If you're going to be a platinum member of the site, you will need to pay $29.95 monthly.
Loveme.com tops our list as it grants you a single tour where you get to meet women from different countries. What also strikes me about this dating site is that it caters to a lot of expenses for various services; hence, you do not have to spend a lot.
This online dating site is relatively cheap as you can access most of its features without making payments. However, to video call or send voicemails to the one you are interested in, you are required to pay a membership fee. Note that there are two membership plans on InternationalCupid.com. You can choose the basic or platinum plan, and the prices vary depending on your choice.
For basic membership, the payment plans are as follows:
The following are payment plans for a platinum member:
Once you have paid for a plan, you do not have to worry about incurring additional expenses. You are hence able to have numerous engagements on the online dating site.
We recommend InternationalCupid.com because it verifies all its members before they can have access to its services. Another significant advantage of the site is that you can browse through it for free. It allows you to see whether you are comfortable with what is offered and see if you can get your match before paying for a plan.
5 Proven Tips for a Solid Long-Distance Dating Online
To have a lasting online long-distance relationship, you have to be careful to follow some proven tips. Read on to understand them.
To survive in a long-distance relationship, you have to trust your partner. Always know that your partner has other things to handle and might not be online all the time. It would be best that you avoid being jealous as this might bring up arguments in the relationship.
It is tough enough that you don't get to spend time together. To cover up for feelings of loneliness, make sure you set a time after work to catch up. Get to share how your day was and what you love about your partner. This helps in building a solid relationship.
One of the reasons you got into a relationship with your partner is that you share the same life goals. It would help if you discussed ways you can pursue and accomplish them as often as you can. Make sure to plan for vacations and dates that you will have when you meet to make your talks exciting.
Organize for Virtual Dates
The traditional way of dates is hanging out together in your favourite place or going for a movie. So that you do not feel left out, virtual dates are the best for you. You can decide to watch your partner's favourite show together or eat a meal at the same time. This gives you a feel of what your partner loves doing, and you can get to experience them virtually.
The last tip is for you to set rules that will govern your relationship. This will ensure that none of you hurts each other, which helps you bear with the long-distance relationship.
In conclusion, handling a long-distance relationship can be tiresome and stressful; however, how you begin the relationship matters. Therefore, before you engage in online dating, you should go through tips that will help you avoid making mistakes that will compromise your relationship. 
Wanna find out how to meet an amazing foreign woman and have experience in International dating, but you have no idea how to start it. Keep calm, we are right here to help! ☝️ Ask Krystyna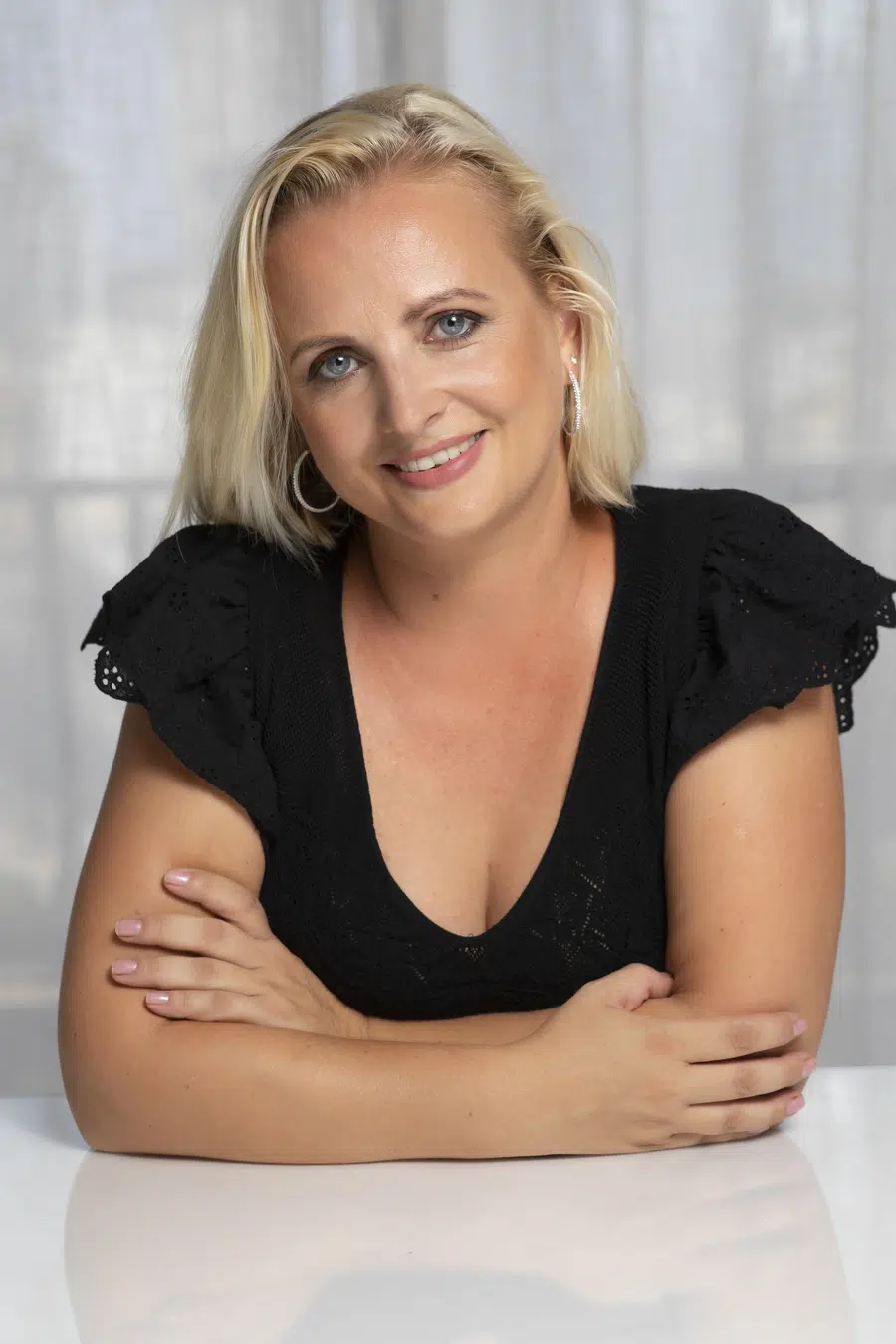 Krystyna is a blogger, coach and iDate speaker. She has been working in online romance and International dating industry since 2012 and is passionate about identifying the romance scam and giving dating tips and hacks. Join Krystyna for the dating service reviews and for finding ways to succeed with dating.
Krystyna focuses on International dating, which involves teaching men communication skills in a cross-cultural environment. She has been featured in many major publications including
DatingAdvice
,
Space Coast Daily
&
SWAGGER Magazine
.
Looking for more information? Feel free to get in touch to ask your questions or give feedback (see here:
Contact Krystyna
).