Christmas is fast approaching, and many people are looking to spend this time with their loved ones. For singles, Christmas time can be a hard time because of loneliness. It is also hard because they do not share the holiday joy and love with a companion.
However, this does not have to be the case. Online dating websites have made it possible for singles to find love and companionship at any time of the year, including Christmas. Numerous online dating platforms offer services at Christmas time.
This post looks at some of these sites and some incredible and easy tips for dating at Christmas.
Online dating during Christmas time - Is it worth it?
Yes, online dating during Christmas time is worth it. Online dating during Christmas time is a great idea because many people are often looking for someone to connect with and interact with.
This is especially the case for single people and those who do not live close to their families. People have ample time to connect on online dating apps during Christmas. This way, they can form genuine relationships.
Another reason dating during Christmas time is worth it is that there is a better chance of meeting the people you interact with on online dating platforms. For instance, it is easier for people to organize trips to meet their partners from online dating platforms.
Therefore, the Christmas season may just be the time when you get to meet the person you have invested time and emotions in.
Random facts that you won't believe are true:
A lot of online dating apps get the most traffic at Christmas
Christmas dating is more common than most people assume
Three easy tips for dating at Christmas Time
Dating at Christmas does not have to be as challenging as most people assume. Below are three easy tips that will help make dating at Christmas time easily;
Incorporate the Christmas theme into your date
Christmas, like most global holidays, has a theme. There are specific Christmas-themed movies, destinations, foods, and a host of activities. You can adopt these themes and include them in your date.
For instance, a Christmas date can consist of a cozy night of watching a Christmas movie under a cozy blanket. There are numerous holiday classics you can watch during your date.
Therefore, finding a movie that fits your preferences and dates is easy. Whether it is a comedy or drama, there is something for everyone.
You can also incorporate the Christmas theme to your date by partaking in activities like watching a Christmas play musical or ballet. You can also have a date night of baking.
Understand that people celebrate Christmas in different ways
When dating at Christmas time, you must also understand that people celebrate this holiday differently. Therefore, you may not want to assume that your belief about Christmas is the same as those of your date.
Therefore, when planning a date or interacting with a date at Christmas, it would be wise to ask some questions and find out what Christmas means to them. If this does not work, you do not have to talk about or do anything related to Christmas during your date.
You can do regular dating activities. Also, do not congratulate anyone during this holiday. Research shows that most people do not get offended when they are not congratulated during this holiday.
It is easy to fall into traps set by scammers when dating at Christmas time, especially if your purpose for dating is loneliness. Loneliness makes you highly susceptible to scamming. Therefore, another incredible tip for dating at Christmas is looking for warning signs for scams.
Top 4 Online Dating Sites to Meet Christmas Singles
Meeting singles during Christmas in a conventional way can be challenging. This is because many people usually spend time with their families at Christmas. More often than not, people seek out dating when they are lonely. However, this is not the case for most people at Christmas.
However, this does not mean that no one wants to date at Christmas. Therefore, the trick is to look in the right places. Online dating platforms are ideal places to meet singles at Christmas.
The internet features a wide range of online dating platforms through which you can meet singles at Christmas. The following are four of the best online dating sites through which you can find singles at Christmas;
Loveme.com / A Foreign Affair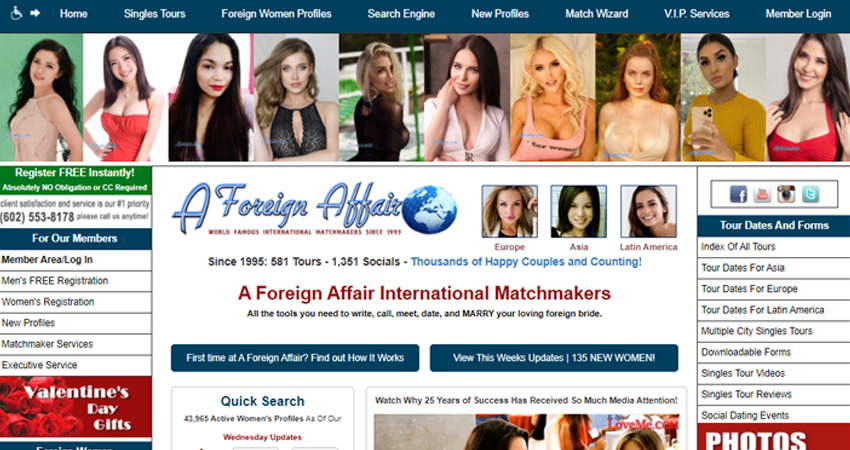 It features an analog web design that is also easy to use. It is an ideal site for Christmas dating because of its database of users all year round.
This online dating website features the following services;
Loveme Fees and memberships
Registering to Loveme.com is free. There are also a few free features on the platform. For instance, you can create a profile and view other people's profiles for free. However, the best features are fee-based.
The platform charges a one-time 95 USD fee for all its new premium members. Each member also pays 29.95 USD per month to keep their subscription running. On the other hand, there are two forms of membership on Loveme.com; free and premium.
Did you know?
Loveme.com is among the pioneers of online dating, seeing that it is one of the oldest.
eHarmony is a popular online dating site created by a clinical psychologist with more than three and a half decades of couples counseling experience. The online dating website is responsible for more than forty thousand marriages (read more: eharmony Review: Is eharmony.com a good dating site?).
It features an easy registration process and a user-friendly interface. It is great for Christmas dating because it is easy to access people with various interests from different parts of the world.
The following are some services available on eharmony;
eHarmony Fees and memberships
There are three membership options on eHarmony. The first is the basic membership, which is free. The second one is the one-month membership that costs 59.95 USD.
There are also the three-month and six-month membership plans that cost 119.85 USD and 179.70 USD, respectively.
There are also the three-month and six-month membership plans that cost 119.85 USD and 179.70 USD, respectively.
Joining a dating site or app is an excellent way to dive into the dating scene. That said, you should offer the best and most authentic version of yourself to boost your odds and find a match.
This is an ideal online dating platform for people seeking casual dating. In other terms, most of the people on this platform are not interested in serious relationships. It is a go-to place for singles exploring their kinkiest, sexiest, and most erotic fantasies (read more: AdultFriendFinder Review: Is AdultFriendFinder legit?).
Its user interface features a friendly design that is easy to access and use. It is great for Christmas dating because it offers numerous features that make dating at Christmas easy.
Adultfriendfinder Services
Below are some top services available on Adultfriendfinder.com;
Adultfriendfinder Fees and memberships
Signing up to Adultfriendfinder is free, like most online dating sites. However, the free services are limited. For instance, you cannot send messages and emails to other users. You can only view part of their profiles and create your own.
However, to access advanced services on the platform, you need a paid membership, the second form of membership. There are three plans for a premium or paid membership. There is a one, three, and twelve-month membership plan.
They cost 39.95, 26.95, and 19.95 USD per month for each, respectively. Paid membership gives you access to full profiles, sending and reading messages, adding friends, using adult chatrooms, uploading and watching videos and content.
This site is ideal for people seeking international romance and dates. It is a legitimate online dating website and is part of the global dating network called Cupid Media.
InternationalCupid features a database of over one million members. It is great for Christmas dating because it offers hundreds of users from several countries, making it easy to find singles to date at Christmas.
InternationalCupid Services
InternationalCupid Fees and memberships
Internationalcupid.com features a free membership that includes free registration, basic search features, replying to incoming messages, liking profiles, and sending interests. There are two paid membership options.
The first one is the Gold membership option, which features three plans. A one, three, and twelve-month gold membership plan costs 29.98, 59.99, and 119.98 USD, respectively. The second paid membership option is the Platinum membership.
This membership features three plans, the one, three, and twelve-month plan, which costs 34.99. 69.98, and 149.99 USD, respectively. The premium plans allow you to access all features offered by the platform, including the ads disabling feature.
Interesting to know
There are more than a thousand online dating sites on the internet. However, many of them are not legitimate.
Conclusion: What are your dating plans for this festive season?
Do you have any dating plans for this festive season? If not, you can always check out the dating sites above for a chance at love and companionship this season.
Wanna find out how to meet an amazing foreign woman and have experience in International dating, but you have no idea how to start it. Keep calm, we are right here to help! ☝️ Ask Krystyna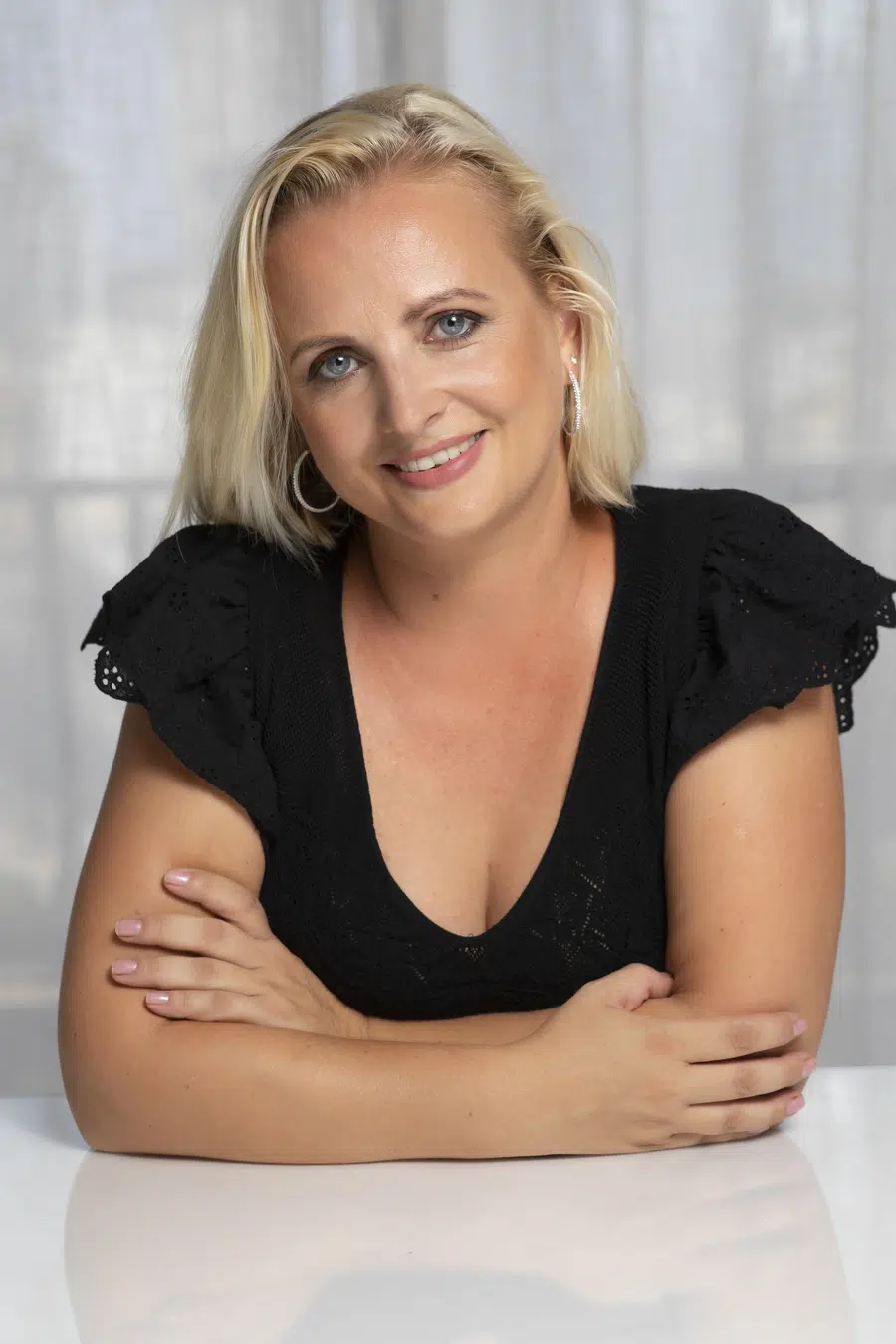 Krystyna is a blogger, coach and iDate speaker. She has been working in online romance and International dating industry since 2012 and is passionate about identifying the romance scam and giving dating tips and hacks. Join Krystyna for the dating service reviews and for finding ways to succeed with dating.
Krystyna focuses on International dating, which involves teaching men communication skills in a cross-cultural environment. She has been featured in many major publications including
DatingAdvice
,
Space Coast Daily
&
SWAGGER Magazine
.
Looking for more information? Feel free to get in touch to ask your questions or give feedback (see here:
Contact Krystyna
).