A relationship challenge is meant to be engaging, but committing to something like a 30-day challenge can bring you and your romantic partner closer together. 
The challenge is designed with activities you and your boyfriend/girlfriend or husband/wife can do together so you can connect, foster intimacy (and not just the physical kind), and rediscover why you fell in love with each other. 
So without further ado, here's a 30-day challenge for your relationship! 
Reasons Why You Can Trust Krystyna
The 30-Day Relationship Challenge to Bring You and Your Partner Closer
Choose a time of day for every activity that suits both you and your partner. And before you start the challenge, you need to commit to it and all its activities to see the full benefits. 
Disclaimer: This 30-day relationship challenge isn't a magical and instant solution that will fix your relationship or marriage. If there are red flags and real problems in your relationship, you need to deal with them head on or decide if it's better for you to end the relationship. 
Day 1: Recreate Your First Date
Recreating your first date lets you reminisce about that first evening your partner asked you out and you'll remember how much fun you had having dinner and just connecting and getting to know each other. 
If your first date was a #disasterzone, then choose your favorite or a memorable date to recreate. 
Day 2: Practice Gratitude Together
When you practice gratitude with your loved one, you'll feel more positive toward each other as your bodies release the love hormone (aka oxytocin). If you regularly show gratitude toward your husband/wife or boyfriend/girlfriend, you'll feel more satisfied with your relationship and feel more connected. 
So on day 2 of the challenge, show each other some love. Find 5 things you are grateful for about your partner and share these during the day. 
"Eyes are the windows to the soul," and I must admit, Shakespeare knew what he was talking about. Soul gazing means to look into your partner's eyes without looking away or feeling awkward. 
It's a great way to feel more connected with your partner, and the more you soul gaze, the more you can see into your partner's soul (and they into yours). 
Create a quiet space free from distractions (yes, switch off your phones) and start gazing into each other's eyes for 30 seconds at a time. Increase the soul gazing time the more comfortable you feel until you can gaze for 10 to 20 minutes. 
Day 4: Have Fun With "Would You Rather" Questions
Asking deep or fun questions can reveal a lot about your partner, and you can see where you are in sync (your answers match up). 
Start asking some would you rather questions early in the morning over breakfast or while you both get ready for work and either call or text during the day to ask a few more questions. 
Continue asking and answering and sharing until you say goodnight. 
Day 5: Slow Dance in the Kitchen or Living Room
It always looks so romantic when you see couples slow dancing in the kitchen or living room in movies or TV shows. You too can have this romantic moment and dance with your partner. 
Opt to play some soft music in the background or dance to a tune only you can hear. Best of all, you don't need to be good at dancing to enjoy a slow dance with your loved one. 
Day 6: Do Quality Time Together
Quality time means no distractions, no technology (so say bye-bye to your phones and laptops), and no kids.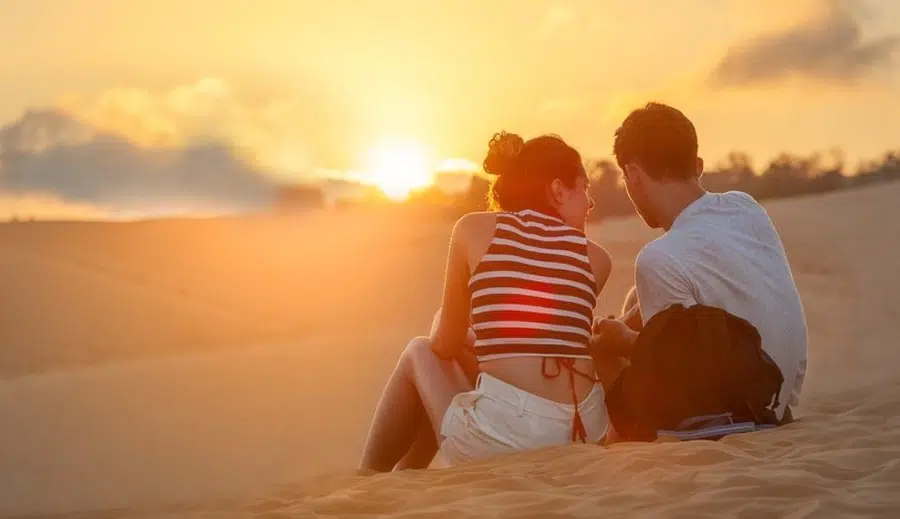 Plan to have a meal together when it's just the two of you, or go for a walk around your neighborhood (or maybe someplace else where you aren't likely to bump into people you know). 
A spa evening is a lot of fun, and you and your partner get to spend quality time together too. The point here is to relax. 
You can soak in the bathtub with cool music and some wine. Then give your partner a relaxing 30-minute massage and have them return the favor. Who knows where the evening will lead if it starts off this way? 
Day 8: Watch the Sunrise Together
Watching the sunrise or sunset together is super romantic. You can do this from your home, a place in your town or city that has a nice view, or even hike and experience the sunrise from a mountain top. 
Enjoy a cup of tea or coffee, and just silently sit together. Or if you want, you can have a deep conversation about the meaning of life. 
Day 9: Leave a Romantic Note
Just imagine how special your partner will feel when they discover a sweet, romantic, handwritten note that you left for them under their pillow, in their lunchbox, or somewhere you know they'll look during the day. 
The note can be short and sweet with a "Thinking of you. I love you" or a "Can't wait to see you tonight." 
Day 10: Show Your Appreciation
Saying "thank you" goes a long way to showing your appreciation, but these two little words often get spoken mindlessly. 
So show how much you appreciate your boyfriend/girlfriend or husband/wife for being in your life by complimenting them, giving them a hug, and matching their love language. 
You can't read your loved one's mind, and sure, you can be so in tune with them that you anticipate what they need. But it's quite special if you just ask them how you can help and support them or be there for them. 
Make time for a game or two during lunch or after dinner. You can learn a lot about your partner by playing a game, and every now and again, you can opt for a sexy couples game that leads to other interesting bedroom activities. 
Day 13: Make a Bucket List
Sit with your partner and create a bucket list of 100 things you want to do together before you die. 
If you are short on time, consider finding 20 activities and add to your bucket list over the next few days. 
Choose an area in town you don't frequent often and go for a walk. Hold hands, and if you see an interesting shop, go and explore. It's all about spending time together and just being there with each other in that moment. 
Day 15: List Why You Love Each Other
Make a list of the top 25 reasons (or more) you love your partner and have them make a list about what they love about you. Share and elaborate over dinner. 
Day 16: Make an Anti-Bucket List
The opposite of a bucket list is an anti-bucket list – things you hope to never experience. You can get really silly or serious (or both) when you create an anti-bucket list with your romantic partner. 
Pack your favorite foods and drinks, a blanket, and a portable music player (yes, your phone can work), and have a picnic. You can hike to a special spot or choose an area under a tree in your backyard or at the local park. 
And if the weather turns funny, have your picnic in your living room or a tent. 
Day 18: Go on a Wine, Beer, or Dessert Tasting
Set your taste buds alight with a tasting experience. If you and your boyfriend/girlfriend or husband/wife love wine, then visit a local winery. Or if beer, cocktails, wine, or something else is more your thing, go on a tasting adventure that works for you. 
You can even just raid the local grocery store and buy a bottle of wine you haven't tried before and go enjoy that at home. 
Day 19: Compliment Each Other
Compliments are nice – when they are said with sincerity. Give your partner 10 compliments during the day. You can praise how they look, how their eyes light up when their favorite song comes on the radio, or how amazingly they handled a situation. 
Day 20: Look Through an Old Photo Album
With most things being digitized these days, looking through a photo album may mean scrolling through a gallery on your PC or phone instead of an actual book with photos. 
Sit on the couch and scroll (or page) through the photos and chat about the experiences and memories the photos invoke. 
Day 21: Go on a Road Trip
If you have time, you can take the whole day and just drive and explore. Otherwise, go visit a town in your county or state you haven't been to that's about 30 minutes away. Walk around, pop into unique shops, and have lunch or dinner at a restaurant or diner. 
Day 22: Make a Time Capsule of Your Relationship
Putting time capsules together can be loads of fun. Find some trinkets from your relationship to put in a box or jar, and reminisce about the objects before placing them away. 
Choose a future date – 2 or 5 years in the future – and mark the date on your phone calendar with a reminder. Open the time capsule and remember how in love you were. 
Day 23: Try the 15-Second Kiss
The 15-second kiss is kissing your partner for 15 seconds straight (which isn't a lot of time) but you don't expect anything in return for the kiss. That means the kiss can't lead to other physical activities. 
Simply grab your partner, kiss them, and go about your day (while thinking of the kiss, of course). 
Day 24: Find Your Love Languages
Every person has a love language (or two) and meeting these shows the person you love them. You can, of course, show your partner you love them by telling them, but they might better "understand" love when you touch their shoulder or hug them because that's their love language. 
Complete this love language quiz to find what your love language is and have your partner do the same. Then find a way to tell them you love them as a way to meet their love language. 
Day 25: Make Them Breakfast in Bed
Set your alarm to get up earlier and prepare a special breakfast you can enjoy with your loved one in bed. Possibly choose to do this challenge on a weekend day or when your partner won't feel rushed to get to work. 
After all, you want them to enjoy breakfast with you. 
Day 26: Ask Them Deep Questions
Deep questions dive into who you are as a person, and it helps you get to know your partner, feel close to them, and have interesting, soul-searching conversations. Choose 3 to 5 deep questions and ask them during the day. 
Day 27: Sign up for a Class Together
Choose something you are both into or want to learn and do a class together. It can be a pottery class, cooking class, mixology class, or even a Tai Chi class. 
Doing something together that's new builds experiential intimacy and brings you closer together as a couple. 
Day 28: Send a Flirty Text (or Two)
Send your partner a flirty text—an unexpected pick-me-up—to let them know you are thinking about them. Here's some flirty text inspiration if you need some help. 
Day 29: Have a Surprise Date Night
You can go all out for date night or keep it budget-friendly and low-key. So plan a date night (make sure your partner doesn't have other plans unless they involve you) and surprise them. 
You can go out for dinner, screen a movie and enjoy snacks at home, hop from restaurant to restaurant (or bar hop), or even try something new. 
Day 30: Give Them a Love Coupon
The idea is that your partner chooses a coupon from the book and they can use them whenever they want to. 
Bonus Day: Take a Selfie Together
Taking a selfie together is my bonus day challenge. Choose a moment where you are with your partner and take a selfie with them. You can gaze at each other lovingly, pull faces, or simply let your eyes tell the camera how you feel about each other in that moment. 
Recently, a 30-day intimate challenge for couples went viral on TikTok. While this challenge was designed for couples to have sex or be physically intimate with each other each day for a month, a relationship challenge can take many forms. 
After all, being physically intimate with each other is just one aspect of your relationship. A successful and healthy relationship is built on the physical aspect as well as emotional and intellectual intimacy, shared experiences, mindful listening, wholly supporting each other through thick and thin, and unconditional love. 
So are you ready to try my 30-day relationship challenge so you and your partner can reconnect? 
Wanna find out how to meet an amazing foreign woman and have experience in International dating, but you have no idea how to start it. Keep calm, we are right here to help! ☝️ Ask Krystyna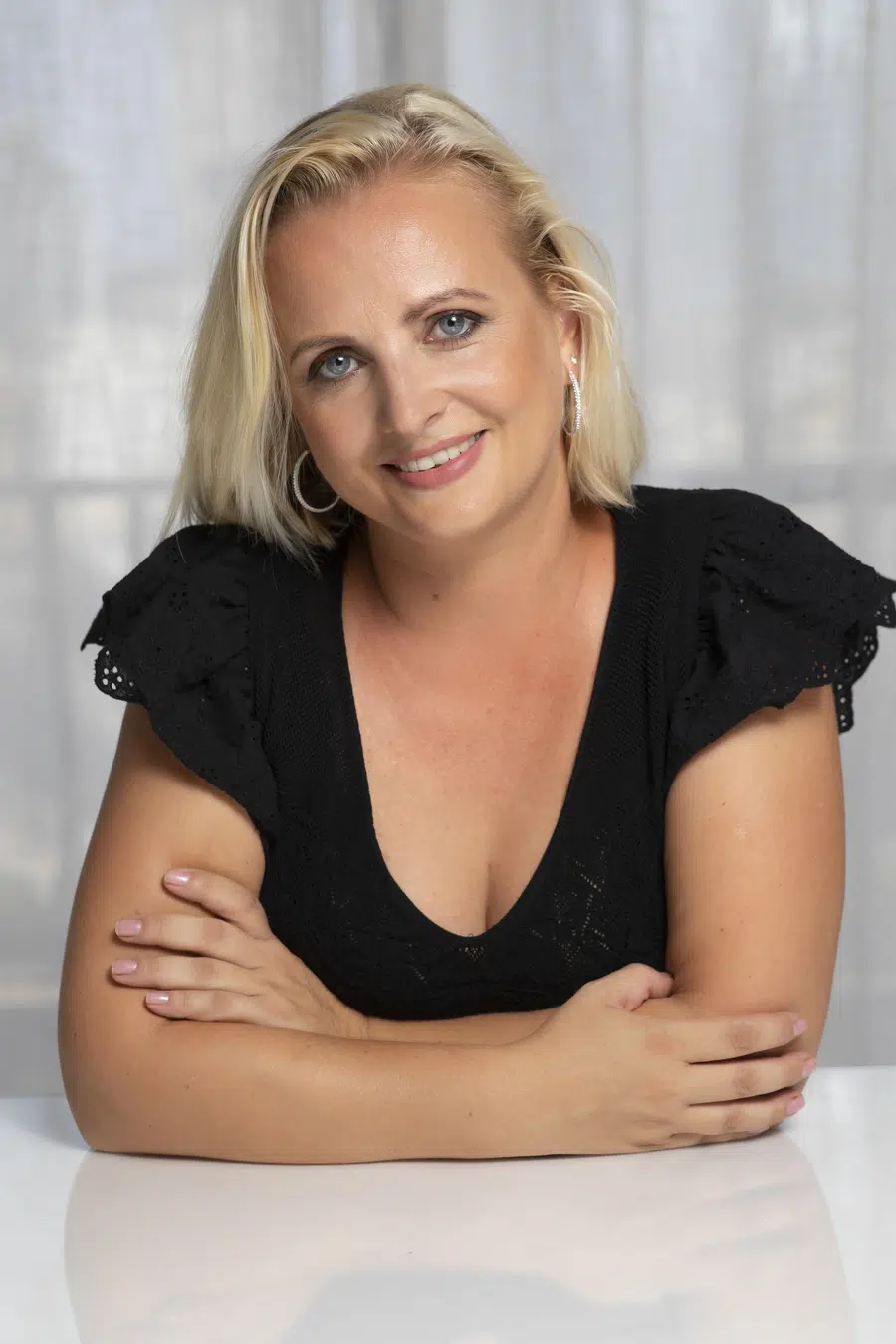 Krystyna is a blogger, coach and iDate speaker. She has been working in online romance and International dating industry since 2012 and is passionate about identifying the romance scam and giving dating tips and hacks. Join Krystyna for the dating service reviews and for finding ways to succeed with dating.
Krystyna focuses on International dating, which involves teaching men communication skills in a cross-cultural environment. She has been featured in many major publications including
DatingAdvice
,
Space Coast Daily
&
SWAGGER Magazine
.
Looking for more information? Feel free to get in touch to ask your questions or give feedback (see here:
Contact Krystyna
).